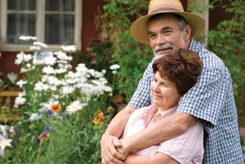 4 ways to pay your mortgage faster and save
Paying off the mortgage seems like a distant dream for many Canadians. The good news is that even small amounts can help you reach that goal sooner.
Here are four strategies you can use to pay your mortgage down faster and save money.
For each strategy, an illustration is included based on a typical mortgage repayment scenario for a $100,000 mortgage with monthly payments, an amortization period of 25 years and an annual interest rate of 5% over a five-year term. With this starting point, you'll see over the five-year term:
Monthly payments = $581.60
Cost of borrowing (total interest paid) = $23,403.80
Outstanding principal after five years = $88,507.50
Strategy #1: Increase the frequency of payments
|   | Original illustration (12 payments/yr) | Accelerated biweekly payments (26 payments/yr) | Accelerated weekly payments (52 payments/yr) |
| --- | --- | --- | --- |
| Payment | $581.60 | $290.80 | $145.40 |
| Interest paid in 5 yrs | $23,403.80 | $22,972.62 | $22,952.27 |
| Your interest savings over 5 yrs | -- | $431.18 | $451.53 |
| Outstanding principal after 5 yrs | $88,507.50 | $85,168.30 | $85,147.94 |
Strategy #2: Take advantage of increased payment options
By increasing the amount of your mortgage payment, you can significantly reduce your overall costs and own your home sooner. TD Canada Trust customers can increase their payments by up to 100% of their regular payment amount at any time throughout the term of the mortgage. Here's how a 10% increase in your monthly payment amount compares with our original illustration:
 
Original illustration
Increasing monthly
payment amount by 10%
Payment
$581.60
$639.16
Total interest
$23,403.80
$22,943.34
Savings in 5 yrs
--
$460.46
Outstanding principal after 5 yrs
$88,507.50
$84,557.44
Number of years to pay off mortgage
25
21
Strategy #3: Take advantage of lump-sum payments
If you can make lump-sum payments on your mortgage, you'll save. TD Canada Trust mortgage holders can make lump-sum payments of up to 15% of the original borrowed amount each year. This chart shows the effect of making a 2% lump-sum payment at the beginning of each calendar year of your mortgage:
 
Original illustration
Making a 2% lump-sum payment
each year of the term
Payment
$581.60
$581.60
Annual lump-sum payment
--
$2,000
Total interest
$23,403.80
$21,814.61
Interest savings in 5 yrs
--
$1,589.19
Outstanding principal after 5 yrs
$88,507.50
$76,918.31
(Note: You can still make lump-sum payments greater than 15%, but a compensation amount will be due.)
Strategy #4: Choose a shorter amortization period
Most mortgages are automatically amortized over a 25-year period, meaning that that's how long it will take for your combination of principal and interest payments to eliminate the principal balance on your mortgage. However, you can select a shorter amortization period at the beginning of your mortgage. This increases your monthly payments a little, but dramatically reduces the amount of interest you pay over the shortened life of your mortgage.
Here's how much money you could save simply by opting for a reduced amortization period:
 
25-year amortization
20-year amortization
15-year amortization
10-year amortization
Payment per month
$581.60
$788.12
$1,058.15
Total interest
$74,481.50
$57,710.01
$41,862.29
$26,977.92
Your savings
--
$16,771.49
$32,619.21
$47,503.58
As you can see, even if you are able to make only small increases in your payments, they can really pay off over the lifetime of your mortgage, saving you money on interest and possibly years' worth of payments — and freeing up funds once your mortgage is paid down.