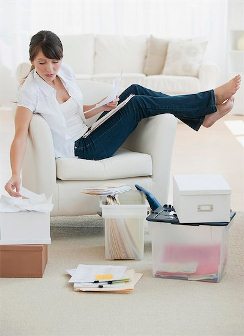 Set up a system for your finances
It's easier to stay on top of your finances if you have a system to follow. Try these ideas to get set up:
Keep incoming bills together in a visible location in order of due date. Set a regular date to review and pay, either once a week or twice a month.
Stash sales receipts and ATM slips in an envelope and check against paper statements or EasyWeb when you pay bills.
Pay bills automatically by setting up Pre-authorized Debits with the companies you pay on a regular basis. Check your accounts frequently to keep track of payments and balances.
Check online bill statements to confirm accuracy, noting amount and due date.
File paid paper bills and checked statements by issuer or by month.
Shred unwanted paper that shows any

personal information.

Try to keep only what you need to cover expenses in your chequing account. Transfer extra money to a savings or investment account.