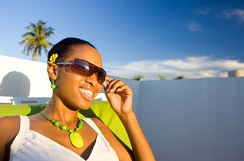 Use TFSAs to save for big-ticket items
When you're planning for a large expense, whether that's getting married, saving to buy your first home, going back to school or taking an extended vacation, a Tax-Free Savings Account (TFSA) can help you get there, sooner. That's because any interest or returns that accumulate inside a TFSA are tax-free — unlike a non-registered savings account.
Follow these tips to use a TFSA to help you reach your milestones.
Try to make the annual maximum contribution. (The maximum contribution limits from 2009 to 2012 are $5,000 each year.) If you can't save the maximum, contribute as much as you can now and top it up whenever you can.
Consider your savings time frame. If you expect to withdraw the money soon, consider a more conservative investment.
Think of the TFSA as a partner to the RSP. Use your TFSA for shorter-term goals. One strategy is to make your Retirement Savings Plan (RSP) contribution, and deposit any refund generated into your TFSA.
Use the TFSA to save for things like a down payment or a return to education. Unlike withdrawing funds from an RSP under the Home Buyers' Plan (HBP) or Lifelong Learning Plan (LLP), when you withdraw from your TFSA the money's tax-free and there's no obligation to pay this money back.
Make it easy to save. Set up a Pre-authorized Transfer Service, and contribute a smaller amount on a regular basis.
Once you've opened a TFSA, you can contribute at any time through EasyWeb Internet banking or EasyLine telephone banking. Or use the TD mobile app to transfer money using your cell phone.
Visit your nearest TD Canada Trust Branch to open a TFSA today.