How to Apply:
Contact us at
1-877-836-7990
8:00am-8:00pm EST M-F (no Saturday)

Are you an Existing Customer?
1-877-836-7990
TTY 1-888-670-6651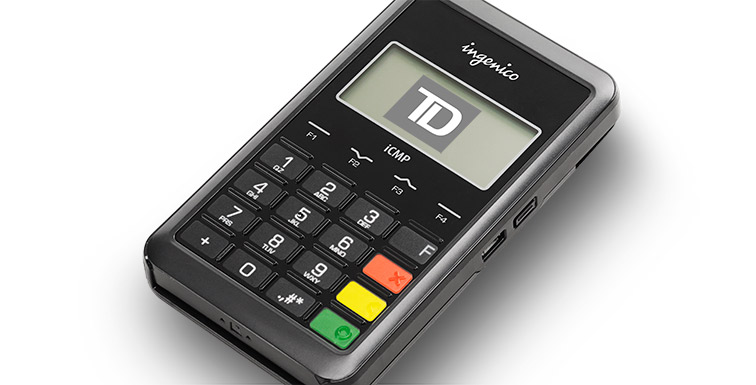 TD Mobile POS
A flexible, easy and secure payment solution that turns your smartphone into a Mobile POS device.

Wireless

How to apply:
Contact us at
1-877-836-7990
Turn your Apple or Android smartphone into a mobile POS device. Securely process payments wherever1 you do business across Canada.

Supports a wide range of payments
Accepts InteracTM, Visa®*, MasterCard®, Discover®, American Express®
Accepts chip and PIN cards and contactless payments

Take advantage of these features and benefits:
TD Mobile POS with bluetooth pairs with your Apple or Android smartphone to accept payments
Connectivity wherever you have data coverage
Digital receipts sent by email
Rechargeable lithium ion battery can process 50 transactions over 3 days
Protects your business transactions through secure PCI compliant technology
Once you have been approved2 for TD Mobile POSTM, its easy to get your PINpad up and running.
All you need is:
Your TD Mobile POS PINpad
An Android or iPhone supported smartphone
A data plan
Connectivity to an active cellular network or Wi-Fi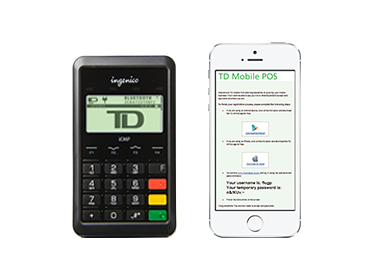 Get started in 4 easy steps:
Step 1:
Activate your Account at the URL provided in your Welcome Email.
Follow along with the video to complete your installation process.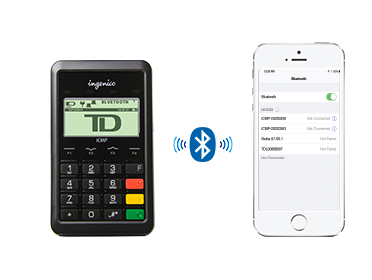 Get started in 4 easy steps:
Step 3:
Activate Bluetooth to sync your smartphone with your TD Mobile PINpad.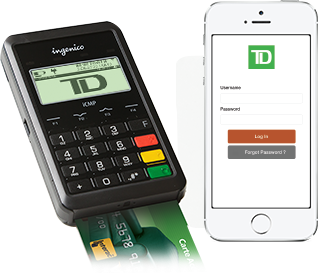 Get started in 4 easy steps:
Step 4:
Set up your TD Mobile PINpad, then start processing payments wherever your business takes you!
Compatible POS devices

We can help you choose a POS device that supports Apple Pay.
Why Choose TD Merchant Solutions

Technical support you can count on
We provide a dedicated 24/7 support line to answer your Mobile POS questions and service your device by phone.

Trusted advice & experience
We offer ongoing support and advice to help you grow your business, from the only payment solutions provider that is a major Canadian bank.

No surprises
The sign-up process is easy and transparent, so you know exactly what you're paying for.
Enhanced Merchant Solutions

Get quick access to real-time authorized transaction information with TD Merchant Solutions Online Reporting.

Boost your sales, drive customer loyalty and build your brand with a Gift Card Program.

If you are a Value Added Reseller (VAR) looking for a way to grow your business, look no further.
1 You will require a data plan with wireless coverage to operate the TD Mobile POS. Standard carrier message and data rates may apply.
2 Subject to eligibility requirements and applicable fees.
3 TD Mobile POS app is free to download; however, standard wireless carrier message and data rates may apply.
Apple, the Apple logo, iPhone, Apple Watch and Apple Pay are trademarks of Apple Inc., registered in the U.S. and other countries.
Visa, Verified by Visa and Plus are Trade-Marks of Visa International Service Association/TD Canada Trust, licensed user of Marks.
Interac is a registered trade-mark of Interac Inc. Used under licence.
American Express: Used under license from American Express Company.
All trade-marks are the property of their respective owners.
® The TD logo and other trade-marks are the property of The Toronto-Dominion Bank.