Are you an Existing Customer?
1-800-363-1163
TTY 1-888-670-6651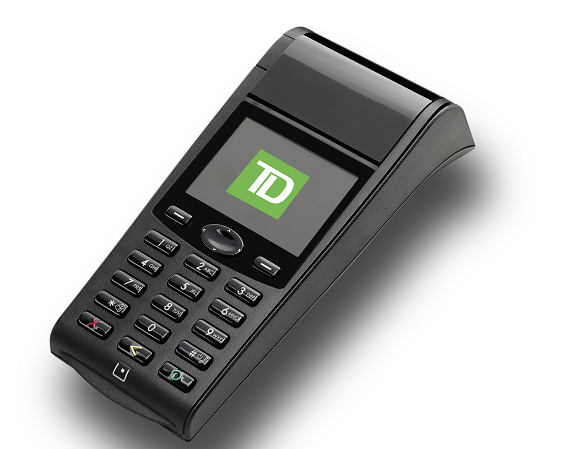 TD Generation WiFi
Short-range wireless and secure POS device that lets customers pay at the table and anywhere else in your premises.

Wireless

How to apply:
Contact us at
1-800-363-1163
Make anywhere in your business a potential point of purchase with this secure and efficient POS device.

Supports a wide range of payments
Accepts Visa®, MasterCard®, Discover®, American Express®, UnionPayTM, InteracTM
Accepts several contactless payment options and mobile wallets
Accepts Givex and ValueLink gift cards

Take advantage of these features and benefits:
Short-range wireless device with backlit colour screen and integrated PINpad
Integrated thermal printer prints 15 lines per second
WiFi connectivity with radius of 150' (expandable with repeater)
Rechargeable lithium ion battery processes 250 transactions on full charge
Protects your business transactions through secure PCI compliant technology
---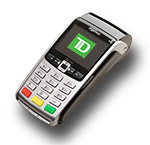 Designed for efficiency, this fast and secure bluetooth POS device accepts payments anywhere in your place of business.
---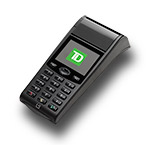 Long-range wireless and secure POS device that accepts payments wherever your business takes you1.
Compatible POS devices

We can help you choose a POS device that supports Apple Pay.
Why Choose TD Merchant Solutions

Technical support you can count on2
We offer on-site technical service within 4 hours of your call3, and 24/7 telephone support at 1-800-363-11633.

Trusted advice & experience
We offer ongoing support and advice to help you grow your business, from the only payment solutions provider that is a major Canadian bank.

No surprises
The sign-up process is easy and transparent, so you know exactly what you're paying for.
Enhanced Merchant Solutions

Get quick access to real-time authorized transaction information with TD Merchant Solutions Online Reporting.

Boost your sales, drive customer loyalty and build your brand with a Gift Card Program.

If you are a Value Added Reseller (VAR) looking for a way to grow your business, look no further.
1 HSPA cellular service required
2 Certain restrictions apply.
3 Available seven days a week (except Christmas Day and New Year's Day) in most major centres if TD Merchant Solutions receives the telephone call for assistance by 4:00 p.m. ET on weekdays, and 2:00 p.m. ET on weekends (all times local to Merchant). All trade-marks are the property of their respective owners.
Apple, the Apple logo, iPhone, Apple Watch and Apple Pay are trademarks of Apple Inc., registered in the U.S. and other countries.
Visa, Verified by Visa and Plus are Trade-Marks of Visa International Service Association/TD Canada Trust, licensed user of Marks.
Interac is a registered trade-mark of Interac Inc. Used under licence.
American Express: Used under license from American Express Company.
All trade-marks are the property of their respective owners.
® The TD logo and other trade-marks are the property of The Toronto-Dominion Bank.