TD Generation: with PINpad
Are you an Existing Customer?
1-877-836-7990
TTY 1-888-670-6651
How to Apply:
Contact us at
1-877-836-7990
8:00am-8:00pm EST M-F (no Saturday)

TD Generation: with PINpad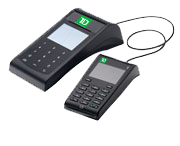 An easy-to-use terminal with a variety
of payment options
Give your customers fast and secure payment options- with enhanced functionality and contactless1 payment options built right into your terminal.
This solution is right for your business if you want:
The ability to process payments — such as Visa®*, MasterCard®, Discover®, UnionPayTM, InteracTM,
EMV, Chip & PIN and contactless – securely and easily.
A shared POS-capable terminal that's suitable for professionals (for example, doctors, lawyers, accountants) who want to share a single terminal for the entire office, but who require separate
billings for their practices
A terminal with an incorporated printer, PIN pad (customer-facing), contactless reader and large
colour touchscreen (merchant-facing)
An enhanced payment experience: built-in audio prompts cardholder throughout payment process
Convenient, end-of-day balancing reports
Increased security-each device has its own password and supervisor password
A simple pricing structure with transparent costs and set-up fees
Expert installation to ensure a functional and reliable system
Training on the use of the terminal
On-site technical support*
Why Choose TD Merchant Solutions
Straightforward advice and payment solutions to keep up with your growing business.

Trusted advice & experience
Our professional payment advisors will take the time to understand your business and will help you find the solution that meets your needs.

Technical support you can count on
We provide a 24/7 support line to answer your questions, along with a 4-hour commitment to fix your terminal if it goes down.

No surprises
The signup process is easy and transparent, so you know exactly what you're paying for.

A bank that you can rely on
When you sign up with TD Merchant Solutions, you benefit from the national reach and capabilities of the only payment solutions provider that is a leading Canadian bank.
Enhanced Merchant Solutions

Get quick access to real-time authorized transaction information with TD Merchant Solutions Online Reporting.

Boost your sales, drive customer loyalty and build your brand with a Gift Card Program.

Ask about our Apple Pay-Compatible POS Terminals
Many of our contactless POS terminals are compatible with Apple Pay!
This means your customers can use their iPhone or Apple Watch to make
secure payments.
Call us to find the POS terminal that supports Apple Pay and how to apply
1-800-363-1163