Need help?
Call us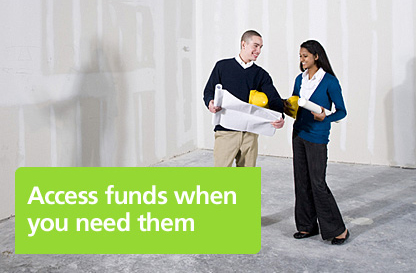 Manage cash flow
A TD Canada Trust Business Line of Credit can be a valuable tool to help finance your day-to-day operating costs and grow your business. It's also a practical way to finance a renewable energy project, which can be used to supplement your business' energy use.
Available for amounts $10,000 and above.
Convenient access via cheque, cash advance, The Green Machine or any automated banking machine (ATM), Easyline Telephone Banking service or EasyWeb Internet Banking service.
Competitive floating interest rates based on TD Prime Rate.
Flexible Security options which include1:

NEW!

Business Property secured
Home equity (full or partial security)
Liquid or margin (full or partial security)
Business asset secured
Unsecured option available

Attached to your Business Chequing Account to reduce your interest costs since you only borrow the amount you need.
Monthly statement provides consolidated credit deposit account activity for ease of record-keeping.
A monthly fee of $25.
Personal guarantee(s) required.
Set Up and Review Fees may apply.
Protection for your business credit
Business Credit Life Insurance2 can help meet the financial obligations of your business should a person who is key to the success of your business die or suffer a covered accident. Learn more about protecting your business.