Skip to content
Small Business
Agriculture Services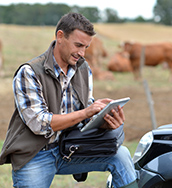 TD Canada Trust Agriculture Services recognizes that farming is more than a way of life, it's a business. Our Agriculture Specialists understand farming. Our experience helps us appreciate the factors that affect the industry in Canada. We can help you expand your operation, improve your cash flow and finance equipment, quota, or livestock.
Our Specialists are committed to building a long-term relationship with you, your business, and the next generation of proud Canadian farmers.
Together, we can meet today's challenges and anticipate tomorrow's opportunities.
Contact your local Agriculture Specialist
AgriInvest Account now available through
TD Canada Trust
The AgriInvest account is a savings account that helps you manage small declines in your farm income. Each year, you make deposits into your account that receive matching government contributions. You can draw on your account to make investments that reduce risk and increase your market income.
Dairy Term Loan (DTL)
A single draw term loan for helping dairy farmers finance capital assets, improve the economic viability of an existing farm operation and acquire farm purchases such as quota.
Find out more

TD Canada Trust also offers