Business Chequing Account

Need help?
Call
,
Book an Appointment
or
find an Account Manager, Small Business
Looking for Commercial?
Visit our Commercial Banking website
Ways To Apply
Or, to begin an application, call our Small Business Advice Centre at 1-866-222-3456
7:00 a.m. – 12:00 a.m. EST, 7 days a week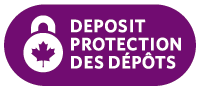 Your deposits may be insurable by the Canadian Deposit Insurance Corporation.