Skip to content
Canada Deposit Insurance Corporation (CDIC)
Protecting Your Deposits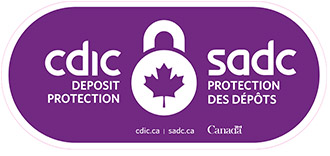 What is the CDIC?
TD Bank and its Canadian deposit-issuing subsidiaries are proud members of the Canada Deposit Insurance Corporation (CDIC). CDIC is a federal crown corporation – a part of the government of Canada – created by Parliament in 1967 to protect money on deposit in the event a member institution becomes insolvent. CDIC protects eligible deposits to a maximum of $100,000 per depositor and per insured category.
Coverage is free and automatic; customers do not have to apply for it. If a member institution failed, CDIC would reimburse insured deposits (including interest) up to $100,000 per insured category.
To be eligible for deposit insurance, a deposit must be:
payable in Canada
in Canadian, US, or foreign currency
Eligible deposits include:
Savings accounts
Chequing accounts
Term deposits/guaranteed investment certificates (GICs)
Money orders and bank drafts issued by a CDIC member institution
Certified cheques
Wires and drafts
The following TD Bank Group entities are CDIC member institutions
The Toronto-Dominion Bank
TD Mortgage Corporation
TD Pacific Mortgage Corporation
The Canada Trust Company
These entities operate under the trade name TD Canada Trust.
Further Information about CDIC
Deposit Insurance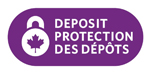 Your deposits may be insurable by the Canada Deposit Insurance Corporation.
Learn more