Paying your bills
Paying Canadian bills
Pay your bills online whenever you like, by making a payment from your TD Canada Trust account.
Set up a Pre-Authorized Debit
It's easy to set up a Pre-Authorized Debit (PAD) with most major billing companies, and payments are automatically deducted from your TD deposit account.
How it works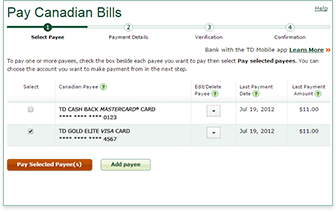 Select the company you want to pay
Select the company you want to pay, then click Pay selected payees. To add a company, click Add payee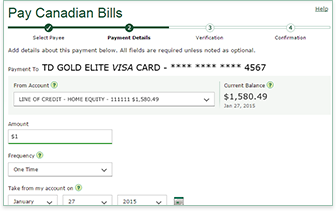 Enter your payment details
Select the account you want to pay from, then enter your payment amount. Choose the payment frequency (one-time or recurring) and the date the payment is to be withdrawn from your account, then click Next.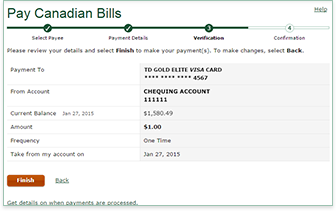 Verify your payment details
Now, verify that the details of your bill payment are correct. Then, click Finish to submit your payment.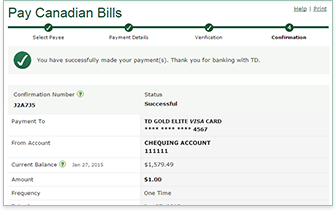 Receive your confirmation
You will receive your confirmation. Have another bill to pay? Click Pay another bill.
Additional Tips:
Arrange automatic payments to help avoid late fees.

Use EasyWeb View Bills to access your Canadian bill statements
Receive, view, pay and store your bills and statements in one convenient online location, using epostTM from Canada Post. It's a free service with over one hundred bills and statements to choose from! Simply log into EasyWeb and register by clicking 'View Bills' from the left navigation menu under 'Payments' or 'Quick Links' to start today.
epostTM is a trademark of Canada Post Corporation.
TMAndroid is a trade-mark of Google Inc.
iPhone, and iPad are trademarks of Apple Inc., registered in the U.S. and other countries.