Stay on top of your spending
The TD MySpend companion app is the perfect addition to your TD app. To use TD MySpend, the TD app must also be installed on your device. Then, you can keep track of your monthly spending and help improve your spending habits!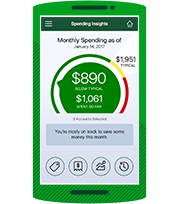 Easy to Set-Up and Use
TD MySpend securely connects to your eligible TD Accounts. TD automatically tracks your transactions and categorizes them for you. No need to enter expenses, or manually link your TD Accounts.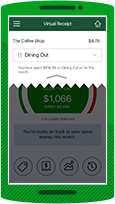 Spending Notifications
Get real-time notifications every time there's a transaction in an eligible category, or review your spending from the previous day with Daily Digest notifications, or choose both. That way, you can keep an eye on your spending.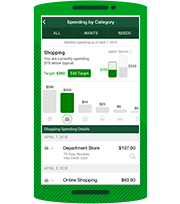 Track Your Spending over Time
Use the Spending Insights Meter to help you keep track of how you're doing compared to your typical monthly spend. You will be able to access your Spending History (up to the previous 12 months), so you can see exactly where your money went.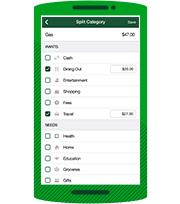 Set Monthly Spend Targets and Split Transactions
Help control your spending habits by setting monthly Category Targets and try not to exceed them. Also, now you can split a single transaction into more than one Spending Category.
The TD app and the TD MySpend app are free to download, however standard wireless carrier message and data rates may apply.

All trade-marks are the property of their respective owners.

Apple, the Apple logo, iPad, and iPhone are trademarks of Apple Inc., registered in the U.S. and other countries. App Store is a service mark of Apple Inc.

TM Google Play is a trade-mark of Google Inc.