Access Card

Use your TD Access Card when
you shop in-store or online.
It's safe, easy, convenient and fast.
Your TD Access Card provides you access to your TD Canada Trust bank account, plus it can be used to make debit purchases in-store, online & around the world.

Payments are always made directly from your TD Canada Trust bank account, helping you better manage your finances and budgeting.
Make everyday purchases with Interac Flash
Everyday convenience – pay for in-store purchases quickly and securely with
Interac Flash at participating retailers. Simply hold it up to the terminal – no need to swipe or insert your TD Access Card.
Flash spend limits – for your protection, a PIN is required for every $100 you spend in single purchases or $200 in multiple purchases.
Shop online and worldwide with the safety and security of Visa Debit
Your TD Access Card provides the simplicity of debit with the acceptance of Visa. All purchases made with your card will continue to access your funds directly from your TD Canada Trust bank account. Your debit card has never been more universal.
Expand Your Options — With the Visa Debit feature of your card, you can shop securely online at thousands of merchants. You can also enjoy the functionality of shopping with your TD Access Card in over 200 countries outside of Canada wherever Visa is accepted.1
Access Your Cash — The Visa Debit feature of your TD Access Card allows you to withdraw cash at more than 2.2 million ATMs around the world displaying the Visa acceptance mark.
Security — Visa Debit transactions are safe and secure, with multiple security elements built in to protect you.
Get TD Fraud Alerts – we will instantly2 send you text messages notifying you if we detect suspicious activity made with your TD Access Card for your personal banking accounts.
In addition, Visa Zero Liability5 provides protection to ensure you're not responsible for fraudulent charges made with your account information or with a lost or stolen card, provided you have met your cardholder obligations including your responsibility to protect your PIN.
Download TD MySpend to get real-time notifications every time a transaction is made using your TD Access Card as well as review your spending from the previous day with Daily Digest notifications. That way, you can keep an eye on your spending and quickly notice if anything seems off.
Learn more about potential service fees for using your Access Card for cash withdrawals at non-TD ATMs outside of Canada or purchases in a foreign currency.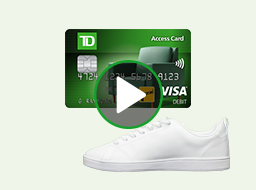 Your payments are safe and secure
Shop with your TD Access Card knowing you are protected in the unlikely event of unauthorized activity on your account. Want to know more about the security elements built into your TD Access Card? Find out what makes your Card secure in the Security Features section below.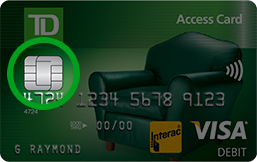 Features and Benefits only refer to the card displayed
Visit any TD Canada Trust branch or call EasyLine at 1-866-222-3456 to receive a TD Access Card.
Your TD Access Card gives you secure access to your TD Canada Trust bank accounts. No one can access your accounts without your unique TD Access Card number and your confidential Personal Identification Number (PIN), EasyLine PhoneCode or EasyWeb password.
Expand
Are there any fees for the TD Access Card?
No, there are no fees. However, it is important to note that each transaction that is completed online, over the phone, by mail-order, internationally or by contactless will be counted as 1 transaction against your account's monthly limit. Any additional transactions above your account limit will be subject to the additional fee schedule that applies to your account today. It's important to speak to a TD Canada Trust representative to ensure you are in the account that best meets your financial needs.
For Visa Debit purchases at merchants outside of Canada, the transaction amount will be converted to Canadian dollars based on the foreign exchange rate charged to TD Canada Trust, and will include an additional fee equal to 3.5% of the converted amount.
Legal
1 Fees apply, see our About our Accounts and Related Services document for more information.

2 You are responsible for ensuring the mobile phone number we have on file is accurate and notifying us of any changes. We will send the TD Fraud Alert text message instantly upon detection of suspicious activity; however, receipt of the text message may be delayed or prevented due to a variety of factors such as technology failures, service outages, multiple third party involvement. TD Fraud Alert text messages will only be sent to customers who have a Canadian mobile phone number and a Canadian mailing address in their TD customer profile. Receipt of the text message may also be delayed or prevented if the mobile phone number on file isn't active and/or connected to a cellular network at the time suspicious activity is detected.

3 TD Fraud Alerts technology is covered by granted Canadian patent no. 2,580,005 and granted U.S. patent nos. 8,024,271; 8,311,941; and 8,554,676.

4 TD does not charge any fees for TD Fraud Alerts. However, standard wireless carrier message rates may apply.

5 Visa Zero Liability applies to all online and international transactions. Should your TD Access Card become compromised, you will not be held liable as long as you have met your obligations as outlined in the Cardholder and Electronic Financial Services Terms and Conditions, including your responsibility to protect your PIN. You are automatically protected – and no additional sign-up is required.