Skip to content
Electronic Banking
Access Card Security
A TD Canada Trust Access Card gives you secure access to your TD Canada Trust accounts. No one can access your accounts without your unique TD Access Card number and your confidential Personal Identification Number (PIN), EasyLine PhoneCode or EasyWeb password.
You're protected four ways –

Chip technology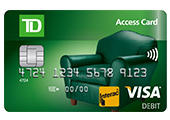 All new Access Cards have an embedded microchip that stores information in a secure, encrypted format. This makes it virtually impossible for unauthorized users to copy or access the information on the card, when using chip-enabled terminals or ATMs.

Visit any TD Canada Trust branch or call EasyLine at 1-866-222-3456 to receive an enhanced TD Access Card.


Personal Identification Number (PIN)
Your Access Card comes with a pre-assigned and confidential four-digit PIN for debit card and ATM transactions. We recommend that you change this to a PIN of your own choice, and that is at least four digits long.
If you want to change your PIN at any time, you can –
Go to your branch. After verifying your identity, the branch will help you select a new PIN. If you forget your PIN, you must visit a branch to receive a new one
Change your PIN at any Green Machine ATM location.
Click here to see how it's done
Always protect your PIN
Memorize your PIN. Never keep a record of your PIN near your Access Card
Avoid choosing a PIN that might be easily guessed (such as your birthday, phone number or address)
Don't tell anyone your PIN
When entering your PIN, take precautions to keep it from the view of others
If you plan to use your Access Card at ABMs internationally, it is recommended that your PIN be at least 4 digits long and that the accounts you wish to access be connected to the Chequing button. Visit www.visa.com for more information on the Plus* system of ABMs, including their ABM locator.

Lost or stolen card service
If your TD Canada Trust Access Card is lost or stolen, call 1-866-222-3456 or go to your nearest TD Canada Trust branch to notify us immediately. A replacement card can be obtained quickly at any branch.
Please note
The use of your TD Canada Trust Access Card is governed by the terms of the Financial Services Agreement and Cardholder and Electronic Financial Services Terms and Conditions.
Please be sure to check your account on a regular basis to verify that you made the Access Card transactions that are shown. This can be done through statements you receive by mail or on EasyWeb.

Verified by Visa
The enhanced TD Access Card has security protections in place. For online Visa Debit purchases, you may be asked to sign up for the Verified by Visa program where available. This program is offered to you at no additional cost and exists to help protect you against fraudulent transactions.