Find an account that
meets your needs
Find out how to get a Samsung 40"
SMART TV with a new TD unlimited
transaction chequing account and a
new eligible TD travel credit card.
Learn more
Conditions apply.
Open an account
Complete a secure application
in minutes – available 24/7
Need help choosing?
Our Account Selector will find
the best account for you
Why choose TD?
Experience more comfortable and convenient banking.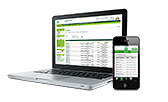 Convenient banking anytime, anywhere
Learn about EasyWeb
Internet banking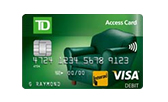 The new TD Access Card
Make purchases wherever VisaCards are accepted.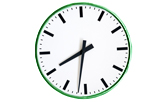 Longer branch hours*
Even open Sunday at over 300 locations to serve you better.
*Individual branch hours vary
Need help?