Seniors' Rebated Accounts
Get a chequing
account that suits
your changing lifestyle
Save every month on select chequing account fees with rebates for those 60 years of age and older.
Need help choosing?
Our Account Selector Tool will find the best savings account for you.
Convenient banking
anytime, anywhere
How much does it cost?
A rebate of 25% off the monthly fee for selected chequing accounts are applicable to those 60 years of age and older, and are as follows:
---
Eligible
Account

Seniors'
Rebate1(opens new window)

Monthly Fee
(after rebate)

All-Inclusive

An all-inclusive banking plan for all your day to day banking needs.

$7.50

$22.45

Unlimited

The most popular banking solution for frequent account users.

$3.75

$11.20

Every Day

A budget-friendly account package for occasional account users.

$2.75

$8.20
Send an Interac e-Transfer® for $0.504 for each transfer of up to $100, and $1.004 for each transfer of over $100. There is no fee for sending an Interac e-Transfer from a personal chequing account with an All-Inclusive Banking Plan.
Additional Non-TD ATM withdrawals for $2.00 each within Canada
PLUS system withdrawals (inside U.S. and Mexico) $3 CDN each, FREE at any TD Bank ATM2

(opens new window)

(excludes All-Inclusive Banking Plan)
PLUS system withdrawal fee outside Canada, U.S. and Mexico are $5 CDN each2

(opens new window)

(excludes All-Inclusive Banking Plan)
Free EasyWeb® View Cheque service
Managing your account is even easier with these services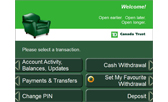 Get your money faster.
Instant access to your paycheque or pension with no holds on your money.
Find out more about
Direct Deposit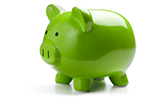 Avoid unexpected cash shortfalls.
With overdraft protection3(opens new window), you're covered against temporary cash shortages - now that's peace of mind.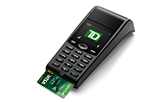 Save money easily.
Make saving automatic with
Pre-authorized
Transfer Service
Save with every debit card purchase when you
use Simply Save
1Senior's Rebate of 25% off the monthly fee (rounded up to the nearest $0.05) for clients 60 years old and over as of March 5, 2012.
2 The Plus Network is operated by Visa International who is responsible for ensuring all member banks are compliant with current standards to allow withdrawals by all Plus Cardholders. Certain states permit surcharging of international customers at independent ATMs. This surcharge will display electronically for the customer to accept before completing the transaction.
3 Subject to approval. All overdrafts must be paid within 89 days, are subject to an interest rate of 21% per annum (subject to change) on the overdrawn amount, and that subsequent deposits to your account will automatically be applied to pay off the overdraft. Overdraft interest rate is subject to change.
4 Regular account transaction fees may also apply.
Interac e-Transfer is a registered trade-mark of Interac Inc. Used under license.