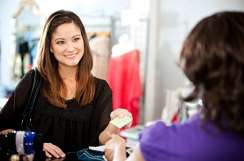 How to avoid overspending on last-minute holiday shopping
The best approach to holiday shopping is to set a budget — and leave plenty of time to shop around, so you can stay within your limit. But time is tight, especially at this busy time of year, so staying on track can be a challenge.
If you find yourself in a time crunch for holiday gift shopping, try these tips to stay within budget.
Compare
Save time by comparison shopping online, whether you will be purchasing online or at the mall. Make lists of what is available and where, and stick to your list to avoid panic shopping or buying "gifts" for yourself.
Prioritize
Concentrate on picking up the gifts you need immediately. If you will be seeing some gift recipients after the holidays, you may be able to take advantage of Boxing Week sales.
Personalize
Consider giving more personal gifts. For example, give creative gifts such as framed photos, hand-knitted items or home-baked goodies, or pledge your time to babysit or help organize or clean someone's house or garage.
Deliver
To avoid expensive last-minute courier charges, try to shop online and send items directly to the recipient. Look for retailers that offer free shipping. Confirm delivery times to ensure your gift will arrive on time.