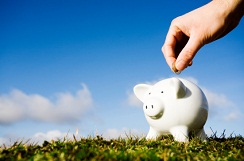 How to be a better saver
If you want to start saving, or you want to save more, this step-by-step guide can help. Just find your starting point and discover the saving solution that's right for you.
"I save a little, but I also spend a lot — I'd like a painless way to save more"
Solution: Ramp up your savings
Sign up for the TD Canada Trust Simply Save program.
All you need is a TD Canada Trust Chequing Account and a
TD Canada Trust Savings Account, plus your TD Access Card.

Choose an amount from $0.50 to $5.00 to be transferred from your Chequing Account into your Savings Account each time you use your Access Card.

Choose what kind of transactions to include (debit purchase, ATM withdrawal or both).

Each day, week or every other week (it's your choice), your chosen amount will be transferred into your savings account. You just watch the savings add up!
You can sign up or make changes to these choices any time you like – online through EasyWeb, at a branch or by calling 1-866-222-3456.
"I save a little, but I'd like to save more deliberately"
Solution: Begin a savings program
Open a Savings Account.
Set up a Pre-authorized Transfer Service, so you can start moving money into your savings account automatically.

Arrange to move the smallest amount of money you think you can safely put aside on the day you get paid and still meet financial obligations.

Set a reminder in your calendar to reassess your cash flow after three months. Do you miss the money? Could you increase the amount? Make adjustments, and you're on your way to being a better saver.
"I'm saving money, but I have a specific goal I want to meet"
Solution: Take a strategic approach to saving
Use Your Savings Tool to estimate how much you need to save in order to meet the amount and timeline of your savings goal.
Use this information to start your savings program (see "Begin a savings program," above).