Secured TD Credit Card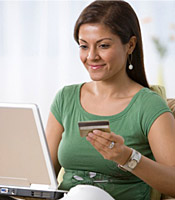 Choose from a wide range of cards
Some reward options available

This option may be right for you if you're a recent immigrant with no credit history, or if you're trying to rebuild your credit rating after some financial difficulties. Come in to a branch or call us to learn more about secured TD Credit Cards.
How a secured credit card works:
Card is secured by funds on deposit in a TD bank account you hold with us
The amount you deposit must be at least the minimum credit limit for the card you choose
You can secure a wide range of TD Credit Cards, even one with a reward program.