Saving & Investing
Saving for a vacation
When you're working hard, a well-deserved vacation can refresh and energize you. Just planning a vacation is proven to boost your overall happiness.1
Before you start putting money away for your next trip, it's wise to explore your options and see just what type of vacation suits you best. Is it a week at an all-inclusive resort, a month-long self-guided trip through Europe, or a cruise through the Mediterranean?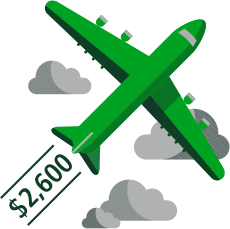 Canadians taking time off during the winter will generally spend about $2,600.2
Here are our suggestions to
help save for a vacation
To start saving for your vacation, we suggest a TD Every Day Savings Account with a Pre-authorized Transfer Service (PTS). A PTS can easily be set up so that you are automatically transferring the money for your vacation from your chequing account to your savings account on a regular basis.
Another great way to put money aside for a vacation is the Simply Save program. With Simply Save, every transaction you make with your TD Access Card you are also making a contribution to your savings. You can choose to contribute $0.05 - $5 from your chequing to your TD Every Day Savings Account each time you make a purchase, and watch those smaller contributions add up to a great vacation.

Saving Tips
In addition to your budgeted savings, there are lots of small things you can do that could really add up and help you reach your goal sooner. Take a look at some easy savings tips:
Every time you get a deal, like a 2-for-1 or use a coupon, put that money you would have spent right into your savings.
Use cash. Put your weekly entertainment budget in cash so you can easily see how much your spending and how much you have left. If it's getting low, you might decide to skip that afternoon treat.
Visit a branch today to
speak with an advisor and
build your customized
savings plan
1Source: http://well.blogs.nytimes.com/2010/02/18/how-vacations-affect-your-happiness/?_php=true&_type=blogs&_r=0
2Source: http://www.newswire.ca/en/story/1125215/cibc-poll-canadians-spending-an-average-of-about-2600-on-their-march-vacations-this-year
Explore other savings plans
---
There's a choice when it comes time to invest for your future goals. With our helpful advice, you'll find the plans that are right for you.
Grow your savings with our innovative investment products. We'll help you understand your options, and provide sound advice.
Setting up an automatic savings and contribution plan makes saving for your future goals just one of life's routines.
---