Saving & Investing
Starting your savings
Building savings is not only beneficial for things you may want to do in the future, like buy a home or take a nice vacation, but also provides a layer of security in times of uncertainty.
Half of Canadians are putting less than 5%1 of their pay cheque towards savings.
A general guideline is to put at least 10% of your income towards your savings. Even if you're currently paying off student loans or other debt, it's essential to ensure you pay yourself too. Then over time as you make more, you can increase the amount you save as well.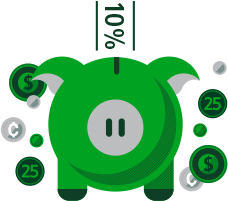 Here are our suggestions to
help save for the future
Open a TD High Interest Savings Account or a Tax-Free Savings Account to begin saving towards your goal. Make it easier to save by setting up an automatic savings plan called Pre-authorized Transfer Service (PTS). A PTS will automatically move funds from your everyday bank account into your savings account. This is a great way to grow your savings without you even having to think about it.

Another great way to put money aside is the Simply Save program. With Simply Save, every transaction you make with your TD Access Card you are also making a contribution to your savings. You can choose to contribute $0.05 - $5 from your chequing to your TD Every Day Savings Account.

Saving Tips
There are lots of small things you can do that could really add up and help you reach your goal sooner. Take a look at some easy savings tips:
Write a shopping list and stick to it to help prevent those impulse buys from adding up.
While you're at it, buy generic. Many pantry basics are just as good, if not better, than the brand name items you pay more for.
Switch one night out a week to a night in. Instead of meeting friends for dinner, have a get together at your place.
Put your savings to work for you
Once you've had the time to build up some savings, you can start to invest it and earn more money.

Guaranteed Investment Certificates (GICs) and Term Deposits provide a safe way to save because your initial investment is protected. Many GICs and Term Deposits also guarantee a rate of return for the term of your investment, which can help you plan when and how you'll use that money.

Mutual Funds provide easy access to the growth potential offered by stocks and bonds without you needing to be an expert. Professionals will select and manage the investments held in the mutual fund to seek to maximize growth, as well as help you plan when and how you can use your savings.
Talk to a Financial Advisor2 about investing your savings into Guaranteed Investment Certificate (GICs) or Term Deposits and Mutual Funds.
Visit a branch today to
speak with an advisor and
build your customized
savings plan
1Source: http://well.blogs.nytimes.com/2010/02/18/how-vacations-affect-your-happiness/?_php=true&_type=blogs&_r=0
2Mutual Funds Representatives with TD Investment Services Inc. distribute mutual funds at TD Canada Trust.
Explore other savings plans
---
There's a choice when it comes time to invest for your future goals. With our helpful advice, you'll find the plans that are right for you.
Grow your savings with our innovative investment products. We'll help you understand your options, and provide sound advice.
Setting up an automatic savings and contribution plan makes saving for your future goals just one of life's routines.
---