Saving & Investing
Saving for a wedding
Congratulations! Getting engaged and planning a wedding are joyful times in one's life. A wedding is a wonderful opportunity to celebrate an exciting step in your life, and host an event with family and friends that you won't ever forget.
You may have been dreaming of this day for years, or are just beginning to plan. Either way, it's easy for wedding costs to really add up. The average expected cost of a wedding in Canada excluding the honeymoon is $22,429.1 So, it's important to sit down with your future spouse or family and talk about what is really important for you both to have at your wedding and what's flexible. Once you know these details, you can begin saving for your special day.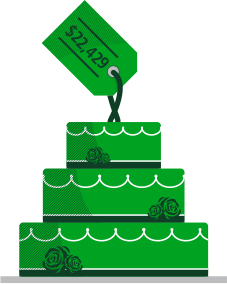 Here are our suggestions to
help you save for a wedding
Opening a with a TD high interest savings account (HISA) will give you a place to put away the money you're saving for your wedding, along with any monetary help you've received from family or friends.

Once you've got your savings account open, setting up a monthly Pre-authorized Transfer Service is an easy way to make sure the money you've allocated for the wedding gets from your chequing account to your HISA on a regular basis.
---

40% of couples are engaged for 13-18 months before tying the knot, which is a nice amount of time to build your wedding savings.2
---

Saving Tips
Set up a short-term savings goal. Saving just $20 a week can add up to over $1,000 a year.
Save all your change. At the end of each day, take all the change from your wallet and place it in a 'wedding fund' jar. Just $2 a day from each of you can add up to over $1,000 in a year.
Put your savings to work for you
Once you've had time to accumulate some savings for your wedding, you can start to invest it and earn more money.
Talk to a Financial Advisor about investing your savings into a Guaranteed Investment Certificate (GICs) or Term Deposits that has a maturity date that aligns with your wedding planning.

GICs and Term Deposits provide a safe way to save because your initial investment is protected. Many GICs and Term Deposits also guarantee a rate of return for the term of your investment, which can help you plan when and how you'll use that money.
Visit a branch today to
speak with an advisor and
build your customized
savings plan
1Source: http://business.financialpost.com/2013/01/26/affordable-wedding-planning-tips/
2Source: http://www.huffingtonpost.com/2013/01/04/average-engagement-length_n_2411353.html
Explore other savings plans
---
There's a choice when it comes time to invest for your future goals. With our helpful advice, you'll find the plans that are right for you.
Grow your savings with our innovative investment products. We'll help you understand your options, and provide sound advice.
Setting up an automatic savings and contribution plan makes saving for your future goals just one of life's routines.
---