Saving & Investing
Saving for a child's education
A post-secondary education is an important step to ones' success, and helping a child realize that goal is a great achievement.
But the cost of higher education is rising, and tuition alone can be quite expensive. The average university tuition in Canada is approximately $5,7001 a year and that doesn't include books or living expenses.
With the right planning, you can make saving a part of your routine and help your education savings grow.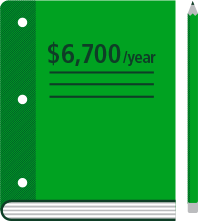 Here are our suggestions to help save for a child's university or college education
Start by opening a Registered Education Savings Plan(RESP) for a child. An RESP is an account registered with the Government of Canada to help you save for a child's post-secondary education. When you contribute to an RESP, you become eligible for government grants that can amount to thousands of dollars for a child's future education.

The government gives you a basic grant of 20% on the first $2,500 of annual contributions to an RESP. That's up to $500 per beneficiary each year to a lifetime limit of $7,200 towards a child's education.
---
The enhanced UCCB can be a great way to start saving for a child's education.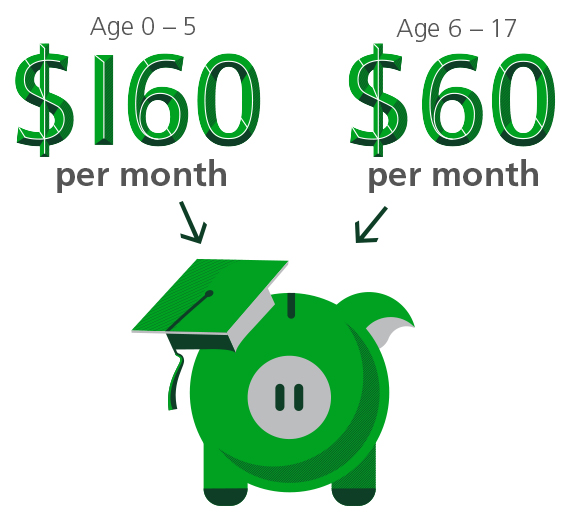 Starting in January 2015, the government added $60 on top of existing UCCB payments for parents.2 Children between 0-5 will receive up to $160 monthly and those 6-17 will receive up to $60. That's a total of up to $20,160 per child in lifetime benefits.
With an Education Savings Plan, you're eligible to receive the Canada Education Savings Grant (CESG), which matches 20% of annual contributions up to a maximum of $500 per year and $7,200 lifetime limit, per child. That means you could receive up to $4,0323 in CESG benefits per child when you contribute your full UCCB payments from age 0 to 17 amounting to $20,160 to an RESP.4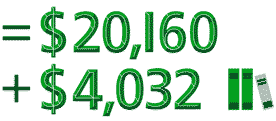 On July 20th, you could be eligible for a lump-sum retroactive payment for the first 6 months of 2015, plus your July payment. So start or increase your education savings by putting your UCCB into a RESP at TD.

Want to know how much you could save for a child in an RESP?

Visit a branch today to
speak with an advisor and
build your customized
savings plan
Take this plan with you
Bring this page to your branch and get the conversation started
---
Book an appointment
Investment representative are available to take your call, 24/7
---
Apply in person
Explore your options today, visit any TD Canada Trust Branch
---
Explore other savings plans
---
There's a choice when it comes time to invest for your future goals. With our helpful advice, you'll find the plans that are right for you.
Grow your savings with our innovative investment products. We'll help you understand your options, and provide sound advice.
Setting up an automatic savings and contribution plan makes saving for your future goals just one of life's routines.
---
1 Source: Statistics Canada, Centre for Education Statistics.
2 Subject to parliamentary approval.
3 $4,032 is calculated on the assumption that the RESP is eligible for the Canada Education Savings Grant (CESG). The CESG will top up annual RESP contributions by 20% on the first $2,500 in contributions (up to $500 per child each year, to a lifetime limit of $7,200, per child).
4 $50,000 per child is the lifetime contribution limit.