Saving & Investing
Saving for a home or condo down payment
Taking the step to buy a home of your own is a very exciting and rewarding experience. A good place to get started is considering your options: condo or house? The neighbourhood? Fixer-upper or new construction? Once you've got a feel for the cost implications of these decisions, then you can roughly determine what you're looking at spending.
The national average home price is climbing and currently sits just over $400,000.1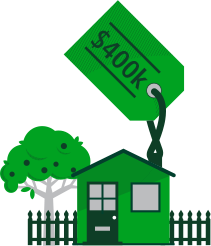 The cost of a home may seem overwhelming, and saving for a down payment can be daunting if you are just starting out. But, with the proper planning, budgeting and saving you can be well on your way to owning your own home.
Here are our suggestions to help you save for a down payment
Open a TD High Interest Savings Account or a Tax-Free Savings Account to start putting the money away for your down payment. Moving your down payment savings out of your everyday banking account and into one of these accounts will help you set your funds aside and build your savings.

Make it easier to save by setting up a Pre-authorized Transfer Service. This service can be set on a weekly, bi-weekly or monthly basis and will automatically move the funds you've budgeted for your down payment from your everyday bank account into your savings account.

Consider using your Retirement Savings Plan (RSP) to help with your down payment. For first time home buyers, the Home Buyer's Plan lets you withdraw up to $25,000 from your RSP (up to $50,000 for a couple) to help with your down payment2.

Saving Tips
In addition to your budgeted savings, there are lots of small things you can do that could really add up and help you reach your goal sooner. Take a look at some easy savings tips:
Save your change! If you put your spare change aside at the end of every day, it can really add up. That $1.00 of change a day saves you $365.00 a year.
Take your lunch at least twice a week. If you're saving $10 each time you bring your lunch, that could add up to close to $1,000 in savings a year.
Borrow instead of buy. Your neighbourhood library has tons of books and DVDs to choose from, so instead of buying a new book or DVD each month – sign them out for free. That could add up to around $240 of savings a year.3
Put your savings to work for you
Once you've had the time to build up some savings for your down payment, you can start to invest it and earn more money.
Talk to a Financial Advisor about investing your savings into a Guaranteed Investment Certificate (GICs) or Mutual Funds4.

GICs and Term Deposits provide a safe way to save because your initial investment is protected. Many GICs and Term Deposits also guarantee a rate of return for the term of your investment, which can help you plan when and how you'll use that money.

Investing in mutual funds means you're putting your money into a portfolio of bonds, stocks, and/or money market investments – all selected and managed by a professional. Investing in a number of different assets through a mutual fund, can lower your risk because your money is not dependent on the performance of a single investment.

Setting up a Pre-authorized Purchase Plan automatically invests your money in TD Mutual Funds at regular intervals. It ensures that you're paying yourself first.
Visit a branch today to
speak with an advisor and
build your customized
savings plan
1Source: http://www.cbc.ca/news2/interactives/housing-canada/
2Conditions and eligibility requirements apply.
3Source: http://www.tdgetsaving.com/#/savings-tips
4Mutual Funds Representatives with TD Investment Services Inc. distribute mutual funds at TD Canada Trust.
Explore other savings plans
---
There's a choice when it comes time to invest for your future goals. With our helpful advice, you'll find the plans that are right for you.
Grow your savings with our innovative investment products. We'll help you understand your options, and provide sound advice.
Setting up an automatic savings and contribution plan makes saving for your future goals just one of life's routines.
---