Digital Banking Solutions
Know where you stand with your money, at home or on the go. Our digital tools are safe and secure, and help make everyday banking easy.
Learn about our Online and Mobile Security Guarantee


Bank in-person close to home
Our branches and ATMs are always close by and ready to make banking more comfortable. Drop by a branch to take care of your everyday banking, or book an appointment to chat with an advisor.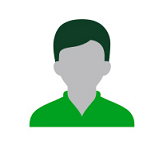 TD Branches
Take care of all your everyday banking needs, from paying bills to buying U.S. dollars, to making a deposit or withdrawal.
TD has more branches open Sunday than any other bank, and we stay open later and longer1.
Meet with our friendly advisors about a mortgage, loan or investment and discover ways to grow your money.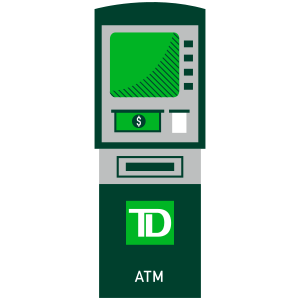 ATMs
Over 4,000 Green Machines across Canada at TD Canada Trust, and in the U.S. at TD Bank, America's Most Convenient Bank
No ATM fees* when you use Green Machines anywhere in Canada.
Cash withdrawals, with options. Choose from a variety of bill types at TD ATMs; $5, $10, $20, $50, $1009
*Regular account fees apply.
The TD app and the TD MySpend app are free to download, however standard wireless carrier message and data rates may apply.
Individual branch hours may vary.

Subject to terms, conditions and applicable fees. Learn more at Interac e-Transfer, TD Mobile Deposit, Pay Bills, Visa Direct.

Service is only available for Canadian-dollar accounts held in Canada. Recipient must have a bank account at a participating finaincial institution. Alternatively, the recipient can collect an Interac e-Transfer using the Interac e-Transfer site.

Selected Android mobile devices are eligible for TD Mobile Payment. The mobile device must be enabled with Near Field Communication (NFC) technology (contactless). You must also have occasional access to a cellular data network or Wi-Fi connection. See the FAQs for more details.

Certain merchants may set their limit under $100. Please check with the merchant about their limit before using TD Mobile Payment.

TD Mobile Payment is only available with the BlackBerry and Android apps.

Certain restrictions apply in the U.S. and other regions. See FAQ for more information.

TD MySpend may be used only for Canadian TD chequing, savings and credit card accounts.

Denominations and availability of bills may vary for each ATM.
All trade-marks are the property of their respective owners.
Interac e-Transfer® is a registered trade-mark of Interac Inc. Used under license.
Apple, the Apple logo, iPad, iPhone and Apple Watch are trademarks of Apple Inc., registered in the U.S. and other countries. App Store is a service mark of Apple Inc.
TMAndroid and Google Play are trade-marks of Google Inc.
Microsoft, Windows and the Windows Phone Store logo are trademarks of the Microsoft group of companies.

EasyLine Telephone Banking
Call us 24 hours a day, 7 days a week, to enjoy convenient and secure EasyLine access to your accounts by choosing our quick automated service or by speaking with a Telephone Banking Specialist. Ready to talk to us directly? Contact us.
TD VoicePrintTM: Enjoy added protection when you call EasyLine
TD VoicePrint uses voice recognition technology to create a print of your voice that is made up of more than 100 characteristics. Together, these characteristics create a voiceprint that's unique to you.

Once enrolled, TD VoicePrint helps confirm your identity when you call, providing an additional layer of protection when banking by phone with EasyLine. Enrolling in TD VoicePrint is completely optional.

Have a question about TD VoicePrint? Find the answers you need.
Enroll in TD VoicePrint today!
Call EasyLine at 1-866-222-3456.
Authenticate your identity through the usual verification process.
Request to enroll in TD VoicePrint.
We'll talk with you for up to 2 minutes while TD VoicePrint works in the background to capture your unique voice characteristics.
The next time you call EasyLine, TD VoicePrint will quickly and automatically authenticate your voice.
---
Easy automated service
Follow simple instructions to pay Canadian bills, confirm your account balances, transfer funds, get your TD Mutual Funds account balances, and much more. Press '0' at any time to speak directly with a Telephone Banking Specialist for personal assistance or advice.
Pay bills to over 7,500 companies – you can also postdate payments
Confirm your account balances and account activity (including your TD Credit Card or Line of Credit)
Transfer funds between your TD Canada Trust accounts
Transfer funds to another TD Canada Trust customer's account
Check your bill payment history to see what bills you have paid
Receive TD Mutual Funds prices, returns, account balances, and activity
When you call EasyLine, this is what you'll hear:

Welcome to TD Canada Trust EasyLine. For faster, more efficient service, please enter your Access Card number now. If you make a mistake, press '*' to start again. If you do not have an Access Card, please press '2'.

Once authenticated, these will be your selection options:

For Day-to-Day Banking inquiries such as bill payments, transfers or to open a new Account, press '1'.

For EasyWeb or mobile app password resets, or technical support, press '2'.

For Loans, Lines of Credit, Mortgages or Credit Cards, press '3'.

To report a lost or stolen Access Card, or Credit Card, press '4'.

To purchase or inquire about Investments, such as Mutual Funds, RSPs, GICs, or Term Deposits, including statement inquiries, press '5'.

For Small Business Banking, press '6'.

To return to the EasyLine menu, press '8'.

For help at any time, press '0' and one of our specialists will be happy to assist you.
Personalized service 24/7
Our Telephone Banking Specialists can help you open a chequing or savings account, order cheques, request a stop payment, invest in GICs and TD Mutual Funds, and more.
Open a new chequing or savings account
Order cheques
Request a stop payment
Invest in GICs and Term Deposits
Open a TD Canada Trust RSP and make contributions
Make deposits to TD Direct Investing self-directed accounts
Apply for a Loan/Mortgage/Line of Credit or renew a mortgage (some restrictions apply)
Request a Credit Card cash advance
Transfer between your U.S. and Canadian dollar accounts
Privacy and security
We've taken care to ensure that only you have access to your financial information through EasyLine. No one can access your personal financial information without your TD Canada Trust Access Card number and confidential PhoneCode, so only you have access to your funds. And with TD VoicePrintTM, you can add an additional layer of security when banking by phone with EasyLine
---
Ready to start banking
with EasyLine?