TD® Aeroplan® Visa Infinite* Card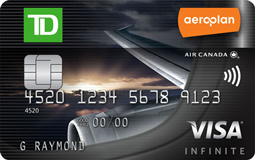 It's never been easier to get on board
Enjoy a Welcome Bonus of 15,000 Aeroplan Miles1 with the TD Aeroplan Visa Infinite Card.
$120
Annual Fees
$50
Authorized Users
19.99%
Interest: Purchases
22.99%
Interest: Cash Advances
Reward Type
Aeroplan Miles
Eligibility Requirements
$60,000 Annual personal income or $100,000 Annual household income
Credit Limit
$5,000 Minimum
With Aeroplan: Get Any Seat. Fly for Less2.
With the choice between two flight reward options, Aeroplan Members can enjoy the value and availability they deserve.
Last year Aeroplan Members needed fewer miles to travel than they would have with credit card travel reward programs in Canada2.
Receive a Welcome Bonus of 15,000 Aeroplan Miles1
---
At a Glance
Earn travel rewards faster with every Purchase made on your Card and arrive at your dream destination sooner
Enjoy exclusive Air Canada benefits while travelling6
Take advantage of an extensive suite of travel insurance4
---
It's easy to earn and redeem Aeroplan Miles

Earn 1.5 miles7 for every $1 you charge to your Card on eligible gas, grocery and drugstore Purchases, and on eligible aircanada.com Purchases.
Earn 1 mile6 for every $1 you charge to your Card on all other Purchases.
Earn miles twice3 when you pay with your TD Aeroplan Visa Infinite Card and present your Aeroplan Membership Card at over 150 Aeroplan partner brands and at 100 online retailers through Aeroplan's eStore. Visit aeroplan.com for a list of Aeroplan partners.
Your Aeroplan Miles don't expire, as long as you're a TD Aeroplan cardholder
Cover Taxes, Fees and Surcharges
When you redeem Aeroplan Miles for an Aeroplan Flight Reward, you have the flexibility to use your miles to cover the taxes, fees and surcharges associated with your flight reward booking9. Learn More

How many Aeroplan Miles will I get in the first year?
Gas, grocery and drug stores
Aeroplan Miles
+
Welcome Bonus†
=
Aeroplan Miles in your first year
With Aeroplan Miles, you could redeem†† for:
† This chart is for illustrative purposes only. Welcome Bonus applies only in the first year. †† In case of a discrepancy between the mileage redemption amount shown above and displayed on aeroplan.com, the aeroplan.com mileage level displayed shall apply. Flight rewards are defined as Fixed Mileage Flight Rewards operated by Air Canada. All rewards shown above are subject to change and availability on aeroplan.com
See more Card benefits &
features
As the Primary Cardholder, receive benefits when you travel using an Aeroplan flight reward redeemed with miles from your Aeroplan account on flights operated by Air Canada, Air Canada rouge or under the Air Canada express banner:
One complimentary first-checked bag6
Priority check-in and priority boarding6
One annual One-Time Guest Access Benefit7 to an Air Canada Maple Leaf Lounge™ every calendar year.
Visa Infinite Complimentary Concierge service5
On call, 24 hours a day, seven days a week, to help you get the most from life whenever you travel, shop and use your Card.
Visa Infinite Luxury Hotel Privileges
Experience some of the world's most intriguing and prestigious properties.
Visa Infinite Food and Wine Experiences
Enjoy exclusive access to dining events hosted at top restaurants across the country.
Travel more comfortably knowing your Card protects you.
Travel Medical Insurance14
Trip Cancellation/Trip Interruption Insurance15
Delayed and Lost Baggage Insurance16
Flight/Trip Delay Insurance17
Common Carrier Travel Accident Insurance17
Auto Rental Collision / Loss Damage Insurance18
Emergency Travel Assistance Services19
Wherever you're headed on your next trip, know that you're covered.
Avis Rent-A-Car11 And Budget Rent-A-Car12 preferred rates
Guaranteed Hotel Reservations
Optional TD Auto Club Membership13
No matter where you shop, make your transactions more secure
Visa Zero Liability
Shop online and in person securely with Visa Zero Liability – included free with your Card.
Advanced Chip & PIN technology
Your TD Aeroplan Visa Infinite Card further protects the security of your Card transactions through use of a microchip embedded in the Card. With chip and PIN technology, you'll have added protection against unauthorized use if your Card is lost or stolen.
Purchase Security and Extended Warranty Protection20
You automatically have access to purchase Security and Extended Warranty Protection, covering most new personal items you've purchased with your Card, should they be stolen or damaged within 90 days of purchase. If the item comes with a warranty, you may be entitled to double the warranty period for up to 12 additional months.
Verified by Visa
Verified by Visa provides you with increased security and convenience when you shop online.
Learn More
TD Aeroplan Visa Infinite Card
is rated out of
5
by
896
.
Rated

4

out of

5
by
Steffie
from
Not too bad for what it is...
It has travel insurance coverage. I had gotten sick and had to cancel flights. I got reimbursed at least 1000 for the flight. If you travel often, it's got medical coverage and trip delay coverages etc.
Date published: 2016-12-07
Rated

1

out of

5
by
aeroplanyuck
from
WORST CARD EVER!
This card is AWFUL when trying to redeem for travel. It only gives you limited choices, flights with 2 stops instead of direct or one stop. I used to have the TD Infinite Travel Visa and switched to this card. WISHING I HAD NEVER MADE THE SWITCH.
Date published: 2016-07-14
Rated

5

out of

5
by
Jack 26
from
It's really good
I travel I go places everywhere like to do stuff and I like to shop online I can do lots of stuff with it
Date published: 2016-03-05
Rated

3

out of

5
by
SuperEliteNoMore
from
Just OK
This card was useful when I travelled a lot and could use miles for any flight because of SuperElite status. Now that I don't travel, good flights on Aeroplan are almost impossible to find and the card isn't worth it. Phoned to cancel and only kept it because they refunded my annual fee. Will keep this card only as long as it's free.
Date published: 2016-02-18
Rated

1

out of

5
by
downtowner
from
a piece of bad deal....
TD Credit Card is the worse in the market... I got the CIBC free of fees the 1st year... The service at the branches is not good at all (although they think it is)... but on top of that the products are abusive... in terms of fees.
Date published: 2016-02-10
Rated

1

out of

5
by
GaryK
from
Not worth it
Customer service, while very polite, has been ineffective for me. Very frustrating. They are a big machine and you need to conform, end of story. Using Aeroplan to travel itself is challenging at best, and almost useless at worst. Points flights are not even close to free as you will pay fees well beyond the taxes, if you can find a flight. Research your points credit cards carefully!
Date published: 2016-02-10

Apply Now
The Aeroplan Program is a coalition loyalty marketing program owned and operated by Aimia Canada Inc. Visit aeroplan.com for complete terms and conditions of the Aeroplan Program. The Toronto-Dominion Bank and its affiliates are not responsible for the Aeroplan Program.
Welcome Bonus of 15,000 Aeroplan Miles ("Welcome Bonus Miles") will be awarded to the Aeroplan Member account associated with the TD Aeroplan Visa Infinite Card Account ("Account") only after the first Purchase is made on the Account.

To receive the additional 10,000 Aeroplan Miles, you must also: (a) apply for an Account between September 3, 2016, and December 2, 2016; and (b) make $1,000 in Purchases on your Account, including your first Purchase, within 90 days of Account approval.

To receive the additional 5,000 Aeroplan Miles you must also (a) Add an Authorized User between September 3, 2016, and December 2, 2016; (b) Authorized User must call and activate their Card by January 16, 2017, and (c) your Account must be in good standing at the time this 5,000 Bonus Aeroplan Miles is awarded. You can have a maximum of three (3) Authorized Users on your Account but you will only receive 1 (one) 5,000 Bonus Aeroplan Miles offer. Annual Fee for each Authorized User Card added to the Account will apply. The Primary Cardholder is responsible for all charges to the Account, including those made by any Authorized User. If you have opened an Account in the last 6 months, you will not be eligible for these offers. We reserve the right to limit the number of Accounts opened by and the number of miles awarded to any one person. Please allow 8 weeks after the conditions for each offer are fulfilled for the miles to be credited to your Aeroplan Member account. Offers may be changed, withdrawn or extended at any time and cannot be combined with any other offer unless otherwise specified. These miles are not eligible for Aeroplan status.
Based on a comparison of 2015 Aeroplan Flight Reward bookings against actual market base fares and leading financial institutions' travel rewards programs' terms and conditions.
This feature is available at over 150 Aeroplan Partner brands and 100 online retailers through Aeroplan's eStore. The Toronto-Dominion Bank is not responsible for any Aeroplan Miles under this "earn miles twice" feature of the Aeroplan Program when the Aeroplan Membership Card is presented. See your Aeroplan Program for full details. Feature may be changed, withdrawn or extended at any time and cannot be combined with any other offer.
For the full details on Insurance coverages/benefits, as well as conditions, limitations and exclusions, please refer to the certificate of insurance included with your TD Credit Card cardholder Agreement.
The goods and services Cardholders request or otherwise choose to obtain through the Visa Infinite Concierge Service are provided by various third-party service providers unrelated to Visa. Visa does not endorse, review or qualify these service providers. Visa makes no representations or warranties (either express or implied) about and assumes, no responsibility or liability for these service providers or the goods and services that may be obtained through the Visa Infinite Concierge. Neither Visa nor TD Canada Trust is responsible for any claims or damages arising from use of any benefits or services provided by a third party. Visa cannot guarantee the successful fulfillment of Cardholders' requests in all instances. There is no fee for the Concierge's services; however, Cardholders are responsible for the cost of any goods or services (including any related fees or costs) authorized by the Cardholder and purchased by the Visa Infinite Concierge on the Cardholder's behalf. All costs will be charged directly to the Cardholder's Visa Infinite card.
All Air Canada benefits are fulfilled in whole or in part by Air Canada, or its designated affiliates or other third parties, and are subject to change at any time. The Toronto-Dominion Bank and its affiliates are not responsible for fulfilling these benefits. For more details about these benefits, please contact Air Canada directly. Air Canada Benefit Eligibility – Priority Travel Services: With the TD Aeroplan Visa Infinite Card, Air Canada benefits (the complimentary first checked bag, priority check-in and priority boarding) apply whenever the Primary Cardholder travels using an Aeroplan flight reward, only, on a flight operated by Air Canada, Air Canada rouge or under the Air Canada express banner. Flights operated by other airlines are not eligible. To access these benefits, the Primary Cardholder must redeem their Aeroplan flight reward (defined as a Fixed Mileage Flight RewardTM or Market Fare Flight RewardTM) with miles from their Aeroplan account. To access these benefits, the Primary Cardholder must also ensure that the name on the Air Canada flight booking is identical to the name on the Aeroplan account profile of the traveler. Where zonal boarding is available, the priority boarding status will be recognized by a Zone 2 descriptor for the Primary Cardholder and companions travelling on the same reservation checking-in at the same time, which will be displayed on the Air Canada issued boarding pass. Priority check-in may also be extended to companions travelling on the same reservation checking-in at the same time as the Primary Cardholder. To access priority check-in and priority boarding, the Primary Cardholder may be required to show their TD Aeroplan Visa Infinite Card to the Air Canada agent. Please allow two weeks from receiving your Card for these Air Canada benefits to be activated. The complimentary first checked bag, up to 23kg (50 lb), applies whenever the Primary Cardholder travels using an Aeroplan flight reward, only, on a flight operated by Air Canada, Air Canada rouge or under the Air Canada express banner. Flights operated by other airlines are not eligible. To access this benefit, the Primary Cardholder must redeem their Aeroplan flight reward (defined as a Fixed Mileage Flight Reward or Market Fare Flight Reward) with miles from their Aeroplan account. To access this benefit, the Primary Cardholder must also ensure that the name on the Air Canada flight booking is identical to the name on the Aeroplan account profile of the traveler. The complimentary first checked bag applies solely to the Primary Cardholder, and service charges for additional/oversized/overweight baggage may apply. Applicable on flights that do not already offer a complimentary first checked bag. To access this benefit, the Primary Cardholder may be required to show their TD Aeroplan Visa Infinite Card to the Air Canada agent. Please allow two (2) weeks from receiving your Card for these Air Canada benefits to be activated.

Air Canada Benefit Eligibility – Air Canada Maple Leaf Lounge One-Time Guest Access Benefit: With the TD Aeroplan Visa Infinite Card, the Primary Cardholder will receive one Air Canada Maple Leaf Lounge One-Time Guest Access Benefit once every calendar year (January 1- December 31). The Primary Cardholder may access an Air Canada Maple Leaf Lounge, where available, upon presentation of an active TD Aeroplan Visa Infinite Card with a valid, same-day boarding pass for travel using an Aeroplan flight reward, only, on a flight operated by Air Canada, Air Canada rouge or under the Air Canada express banner. To access this benefit, the Primary Cardholder must redeem their Aeroplan flight reward (defined as a Fixed Mileage Flight RewardTM or Market Fare Flight RewardTM) with miles from their Aeroplan account. Each Air Canada Maple Leaf Lounge One-Time Guest Access Benefit applies for a single entry during the calendar year for which it was provided by the Primary Cardholder only and cannot be carried forward to the next calendar year or transferred to another person. Additional conditions may apply and are outlined on aircanada.com/tdbenefits. Air Canada Maple Leaf Lounge access is subject to availability and all other then-current terms and conditions located here,[http://www.aircanada.com/en/travelinfo/airport/maplelounges/tc.html] that are subject to change at Air Canada's sole discretion from time to time. Please allow two weeks from receiving your Card for these Air Canada benefits to be in effect.
1.5 Bonus Aeroplan Miles ('Bonus Rate") are earned on each $1.00 in Purchases of eligible gas, groceries, drugstore, and aircanada.com products and services (excluding Air Canada Vacations packages, car rentals, hotel bookings, and other third party partner products and services that can be purchased through aircanada.com) charged to your TD Aeroplan Visa Infinite Card Account ("Account"). Any returned items, refunds, rebates or other similar credits will reduce or cancel the Aeroplan Miles earned on the original Purchase. To earn this Bonus Rate, Purchases of gas, groceries, drugstore and aircanada.com products and services must be made at merchants classified through the Visa network with a Merchant Category Code ("MCC") that identifies them in the "gas", "grocery" or "drugstore" category and on aircanada.com. Some merchants may sell gas, groceries or drugstore products/services, or have separate merchants located on their premises that also sell gas, groceries or drugstore products/services, but may not be classified with a gas, grocery or drugstore MCC and such Purchases will not earn this Bonus Rate. If you have questions about the MCC that applies to a Purchase, contact TD at 1-800-409-5977. Bonus Rate is only available on the first $80,000 in net annual Purchases of gas, groceries, drugstore products/services and on aircanada.com made from January 1 to December 31 each year on your Account. Once the maximum net annual amount has been reached, Purchases of gas, groceries or drugstore products/services on the Account will not earn the Bonus Rate but will only earn Aeroplan Miles at the standard rate that applies to all other Purchases on the Account. This Bonus Rate offer is in place of and not in addition to the standard rate earned on all other Purchases made on your Account. Offer may be changed, withdrawn or extended at any time and cannot be combined with any other offer.
1 Aeroplan Mile is earned on each $1.00 in Purchases charged to your TD Aeroplan Credit Card Account ("Account"). Credit for returned items, refunds, rebates or other similar credits will reduce or cancel the Aeroplan Miles earned by the amount originally charged to your Account. Fees, Cash Advances (including Balance Transfers, Cash-Like Transactions and TD Visa Cheques), interest charges, optional services, refunds, rebates or other similar credits do not earn Aeroplan Miles. Please see the Aeroplan Terms for Your TD Credit Card section of the Cardholder Agreement for complete details on Aeroplan Miles earned on Purchases (a copy of your Cardholder Agreement is available at http://www.tdcanadatrust.com/tdvisa/agreements).
Use of Aeroplan Miles to cover taxes, charges and carrier surcharges associated with a flight reward booking ("Taxes, Fees and Surcharges") is in addition to the Aeroplan Miles required to redeem for an Aeroplan flight reward. Mileage levels required for the redemption of Taxes, Fees and Surcharges may change without notice. Conditions, limitations and exclusions apply when using Aeroplan Miles to cover applicable Taxes, Fees and Surcharges. For full details please visit aeroplan.com/flightrewardtermsandconditions
You must be an eligible Visa Infinite cardholder with a valid Canadian issued Visa Infinite card to take advantage of the Visa Infinite benefits and services. Certain benefits and services require enrolment. Offers and benefits are non-transferable and discounts cannot be combined with any other offer or discount. Neither Visa nor the Issuer of the card is responsible for any claims or damages arising from use of any benefits or services provided by a third party. Visa reserves the right to modify or cancel offers or benefits at any time and without notice. All offers, benefits and services made available through Visa are subject to complete terms and conditions, including third party suppliers' terms and conditions, available online at www.visainfinite.ca/infinite/terms.jsp. The Visa Infinite privacy policy (available online at www.visainfinite.ca/infinite/privacy.jsp) applies to all benefits and services that require enrolment through, or are otherwise provided by, the Visa Infinite Concierge or the Visa Infinite website. The collection, use and disclosure of cardholders' personal information by third party suppliers of services and benefits to Visa Infinite cardholders are subject to such third parties' own privacy policies.
Provided by Avis Rent A Car System LLC. Program terms are subject to change without notice. Certain blackout dates may apply. Offer subject to other terms and conditions.
Provided by Budget Rent A Car System, Inc. Program terms are subject to change without notice. Certain blackout dates may apply. Offer subject to other terms and conditions.
TD Auto Club Membership is provided by AXA Assistance Canada Inc. an independent third party service provider. The Toronto-Dominion Bank and its affiliates accept no responsibility or liability in respect of these services.
Underwritten by TD Life Insurance Company. Medical and claims assistance, claims payment and administrative services are provided by our Administrator. Benefits, features and coverages are subject to conditions, limitations and exclusions, including a pre-existing condition exclusion, that are fully described in the Certificate of Insurance included with your TD Credit Cardholder Agreement. Note that this insurance offers different benefits, with different terms and conditions, than the optional Travel Medical Insurance that is available to all TD customers. The day of departure from and the day of return to your province of residence each count as one full day. 21-day coverage if you're under 65 and 4-day coverage if you're 65 or older.
Underwritten by TD Life Insurance Company (for medical covered causes) and TD Home and Auto Insurance Company (for non-medical covered causes). To be eligible for this insurance, your trip must be paid for in full using your Card and/or Aeroplan Miles. Benefits, features and coverages are subject to conditions, limitations and exclusions, including a pre-existing condition exclusion, that are fully described in the Certificate of Insurance provided with your TD Cardholder Agreement. Note that this insurance offers different benefits, with different terms and conditions, than the optional Trip Cancellation and Trip Interruption Insurance that is available to all TD customers.
Underwritten by TD Home and Auto Insurance Company. To be eligible for this coverage, your trip must be paid for in full using your TD Credit Card and/or associated Aeroplan Miles. Benefits, features and coverages are subject to conditions, limitations and exclusions that are fully described in the Certificate of Insurance included with your TD Credit Card Cardholder Agreement.
Underwritten by Allianz Global Risks US Insurance Company (Canadian Branch). Details of insurance benefits, including terms, conditions, limitations and exclusions are outlined in the Certificate of Insurance included with your TD Credit Card Cardholder Agreement.
Underwritten by TD Home and Auto Insurance Company. Rentals must be charged in full to the Card and/or associated Aeroplan Miles, cannot exceed 48 consecutive days and the rental agency's Collision Damage Waiver coverage must be declined by the Cardholder. Refer to Auto Rental Collision/Loss Damage Insurance section of your TD Credit Card Cardholder Agreement for rental exclusions and further details.
Provided by our Administrator under a service agreement with TD Life Insurance Company. This is not an insurance benefit but assistance services only.
Underwritten by TD Home and Auto Insurance Company. To be eligible for this coverage, the item must be paid for in full using your TD Credit Card. Benefits, features and coverages are subject to conditions, limitations and exclusions that are fully described in the Certificate of Insurance included with your TD Credit Card Cardholder Agreement.
All trade-marks are the property of their respective owners.

TM Air Canada Maple Leaf Lounge is a trademark of Air Canada, used under license.

® Air Canada, Air Canada express, and Air Canada rouge are registered trademarks of Air Canada, used under license.

TM Fixed Mileage Flight Rewards and Market Fare Flight Rewards are trademarks of Aimia Canada Inc.

® The Aeroplan logo and Aeroplan, are registered trademarks of Aimia Canada Inc.

® The TD logo and other trade-marks are the property of The Toronto-Dominion Bank.

Annual interest rates, fees and features are subject to change.