Skip to content
Products & Services
Webinar Workshops
The Business of

Successful
Franchising

Considering purchasing a franchise? Thinking of starting up a franchise? Learn how to build on a winning strategy and join our FREE Webinar Workshop featuring:
Dale Wishewan, President & CEO, Booster Juice
Perry Maisonneuve, Founder & Principal, Northern Lights Consultants Corp
Frank Zaid, Partner, Osler, Hoskin & Harcourt LLP

Hosted by Irene Law, Senior Manager, Business Banking, TD Bank Financial Group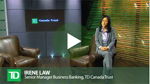 *Please note you will be directed to TD's YouTube channel for this preview video.
Buying a franchise? This Webinar Workshop will show you:
The major steps involved in the franchise purchasing process
How to avoid common mistakes franchisees make
How to evaluate and assess the risks of different franchise opportunities
When to engage franchise professionals
Starting a franchise? This Webinar Workshop will show you:
How to determine if your business is ready to be franchised
Best practices on how to get a winning franchise off the ground
The challenges and successes experienced by an accomplished franchisor
For more information, contact your Small Business Advisor or Relationship Manager.