TD Every Day Business Plans

Need help?
Call
,
Book an Appointment
or
find an Account Manager, Small Business
Ways To Apply
Or, to begin an application, call our Small Business Advice Centre at 1-866-222-3456
7:00 a.m. – 12:00 a.m. EST, 7 days a week
TD Every Day Business Plans

A cost-effective, flexible way to conduct your business banking
Not sure which Service Plan is right for you?
Our Selector Tool will find the best plan for you.
Designed for businesses that:
Want the flexibility to bank using both in-branch and automated services including EasyLine telephone banking, EasyWeb Internet banking and Green Machine ATMs
Have a regular monthly transaction pattern and prefer a fixed monthly fee
Want the opportunity for fee rebates when the required minimum daily account balance is maintained throughout the month
Want FREE, unlimited EasyWeb View Cheque service
Want FREE Business Overdraft Protection, through a $10 monthly fee rebate1
What's included?
| Service Plan Options | Monthly Plan Fee | Transactions | Deposit Items | Cash Deposits | Minimum Monthly Balance for Fee Rebate2 |
| --- | --- | --- | --- | --- | --- |
| Every Day A | $19 | 20 | 50 | $5,000 | $20,000 |
| Every Day B | $39 | 60 | 50 | $5,000 | $35,000 |
| Every Day C | $72 | 120 | 50 | $5,000 | $45,000 |
| For additional activity | | $1.25 each | $0.22 each | $2.50 per $1,000 | |
Withdrawals, transfers, bill payments and deposits at any TD Canada Trust branch or Green Machine ATM
Deposits through TD Remote Deposit Capture
In-branch night deposits
Telephone operator-assisted transactions, including bill payments
Telephone automated transfers and bill payments
Web transfers, bill payments and Interac Online purchases
Use Interac e-Transfer® to send, receive, and request money
Debit payments in Canada and the U.S.3
Cheques, pre-authorized payments and automated transfers
Where a deposit at a TD Canada Trust branch contains multiple deposit items (cheques, money orders, drafts and all other clearing items), up to 250 such items are one transaction.
All debit and credit card Point-of-Sale Terminal deposits that are electronically credited to a TD Canada Trust Business Chequing Account
Green Machine ATM and EasyWeb Internet banking electronic inquiries
EasyLine telephone banking automated inquiries
FREE EasyWeb View Cheque Service4
Deposits through TD Mobile Deposits
Deposit items are cheques(including cheque images through TD Remote Deposit Capture and excluding cheque images through TD Mobile Deposit), money orders, drafts and all other clearing items.
Cash Deposits are paper currency and coins, rounded to the nearest dollar.
Cheque deposit options with TD are fast, easy and convenient
TD Remote Deposit Capture and TD Mobile Deposit are two easy-to-use options to deposit
cheques using your computer and a compatible scanner or your mobile device -
without having to leave the office.5
Talk to us today to see if TD Remote Deposit Capture or TD Mobile Deposit work for you.5
Call 1-800-219-7682 or learn more online.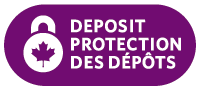 Your deposits may be insurable by the Canada Deposit Insurance Corporation.
Ways To Apply
Or, to begin an application, call our Small Business Advice Centre at 1-866-222-3456
7:00 a.m. – 12:00 a.m. EST, 7 days a week
Find out more about our Chequing Service Plans