TD Scholarships for Community Leadership

Community heroes do good work because they are inspired to, not for the recognition
Unique in Canada, the TD Scholarships for Community Leadership are designed to recognize the achievements of youth who are making a difference and help them realize their educational goals. After all, today's community-minded students are tomorrow's leaders.
Have you made your community a better place? Then we want to hear from you. You may qualify for one of our Community Scholarships.
What are the TD Scholarships?
Twenty TD Scholarships for Community Leadership are awarded to students in their last year of high school or CEGEP (in Quebec) who have demonstrated leadership in improving their community. Each scholarship has a value of up to $70,000 and includes:
Up to $10,000 for tuition per year
$7,500 a year for living expenses
Helping you build connections
But that's not all. These scholarships also help you make connections that could last a lifetime, including:
Offers paid summer employment
Mentorship opportunities
Annual gatherings, networking opportunities and more
What is "community leadership"?
We're interested in hearing from students who have demonstrated consistent and outstanding dedication to solving a community problem or making their community a better place. For example, you may be cleaning up the environment, promoting social justice, or fighting child poverty. Check out what some of the past scholarship recipients have done to improve their community.
How are the winners chosen?
We carefully review all applications, taking into consideration not only each applicant's contributions to the community but also their personal circumstances and any special challenges they may have faced along the way.
We then select up to 80 finalists from across five regions:
Atlantic Canada
Quebec
Ontario
Prairie Provinces/Northwest Territories/Nunavut
British Columbia/Yukon
Regional selection panels (made up of prominent community members) then interview the finalists. Each region will have at least two scholarship recipients and 20 scholarships will be awarded across Canada (provided there are qualified applicants)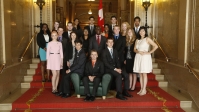 TD Scholarships for Community Leadership are open to students across Canada who:
Have demonstrated community leadership
Are in final year of high school or CEGEP (in Quebec)
Have a miniumum overall grade average of 75% in their most recently completed school year
Deadline
(2014/2015 school year): Early December 2014
---
Have a question?
1-800-308-8306
Read the Terms and Conditions
---
---
Past Recipients
Young Canadians like those seen here have made a meaningful impact in their communities. Learn more about how they have improved their communities.

Crystal Gao
Commited to gender equality.

Daniel Skanes
Delivered leadership training to youth.

Hoda Mahdi
Founded club to help youth overcome bullying.

Nike Valeus
Developed support network for students of African descent.

Alex Vandal-Milette
Launched a fair trade project.

Anne-Lou McNeil Gauthier
Mentored an immigrant child.

Hailey Samm Laxer
Promoted political awareness and voting among students.

Innosar Issakiark
Shared positive messages with youth through the arts.

Jessica Peters
Founded a club centered on helping others.

Jocelyn Davis
Founded a youth group dedicated to social justice.

Kathleen Irwin
Organized club to promote inclusion of students with developmental disabilities.

Kush Thaker
Created an online forum for young writers.

Mackenzie Martin
Organized a conference for the first International Day of the Girl.

Madlen Nash
Formed an educational change task force.

Niyousha Bastani
Co-founded a social justice and environmental club.

Rita Steele
Co-facilitated workshops on issues such as racism, homophobia and classism.

Sarah "Maddie" Hughes
Developed a sports program dedicated to children with special needs.

Selin Jessa
Co-organized TEDxKidsBC youth conference series.

Shannon Wong
Founded initiatives based around "helping youth help others".

Zachary Julian
Revived local youth programs in community.
---
There are two ways to apply
TD Scholarships for Community Leadership are open to students across Canada who are in their final year of high school or CEGEP (in Quebec); have a minimum overall grade average of 75% in their most recently completed school year and have demonstrated community leadership.
Along with your completed application, you'll need to include:
1. A 600-word essay (three copies) describing your community leadership experience.
Tell us:
Why you got involved.
How your involvement shows initiative and innovation.
The ways your efforts have strengthened others.
How long you have been involved.
What you think the long-term impact will be.
How your community has affected you.
In addition, include a brief description of the range of your other community activities.
2. A letter of recommendation from your school.
3. Two letters of support from community groups.
4. Your academic transcript
You also have the option of including:
A 250-word essay (three copies) describing your family and personal life, for example your family's employment or economic situation.
A 250-word essay about your life experiences if you have taken a year or more away from high school or CEGEP.