Your home is probably your single largest financial asset. It can also be a powerful financial tool when you use the value of your home to borrow by getting a home equity line of credit (HELOC).
TD Home Equity FlexLine
With a TD Home Equity FlexLine, you can access up to 80% of the value of your home.1,2 Plus, you just have to apply once and you can access your available credit within your credit limit at any time without having to reapply.3
Your TD Home Equity FlexLine provides great flexibility in how it can be used, such as:
Purchasing a home when you have a 20% down payment
Major household renovations
Purchasing a second property
Consolidating higher-interest debt
Financing the purchase of a vehicle
Education costs
Travelling
Other large purchases
What's unique about a TD Home Equity FlexLine is that it can combine the flexibility of a revolving line of credit with the security of a fixed rate option.

Get the answers you need, quickly and easily.
Use a simple calculation to determine the equity in your home.

We can help match you with an option for your needs.
Variable Rate Portion
Fixed Rate Advantage Option (FRAO)

Borrow up to 65% of your home's equity.
Variable interest rate that changes with TD Prime Rate.
As you pay down your outstanding balance, your available credit increases to the credit limit.
Pay at your own pace without prepayment charges – pay as little as interest only, or pay any or all of your outstanding balance on your variable rate portion at any time.

The Fixed Rate Advantage Option allows you to create a Fixed Rate Portion with a closed term of one to five years.
If you use the FRAO at set up, you can borrow an additional amount greater than your credit limit of your variable rate portion up to 80% of your home's value.
At any future time, lock all or a portion of the outstanding balance of your variable rate portion into a FRAO and protect yourself from rate increases and establish regular fixed payments (subject to minimum amounts).
On the Fixed Rate Portion you can:

Make one or more prepayments up to 15% of your original Fixed Rate Portion amount every year without a prepayment charge.
Increase your payment amount by up to 100% of your original regular payment.
Increase your payment frequency: switch to rapid payments and possibly make up to an extra month's payment every year.
Example of how you could use the TD Home Equity Flexline: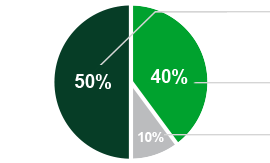 Fixed Rate Portion Outstanding Balance
Use the Fixed Rate Portion to set regular fixed payments on amounts already borrowed such as purchasing a car
Available Credit
Use your Available Credit for future plans such as a home renovation
Variable Rate Portion Outstanding Balance
Manage your budget with a low variable interest rate
Convenience, comfort, flexibility
TD Home Equity FlexLine offers flexible home financing up to 80% of the value of your home. Since the TD Home Equity FlexLine is secured by the equity in your home, you may benefit from a lower interest rate than with unsecured borrowing.
Access funds when you need them, with convenient 24/7 access options:
At your local TD Canada Trust branch
Transfer funds using EasyWeb Internet Banking
Withdraw from an ATM or pay for purchases at retailers with your TD Access Card4
Write a cheque on your TD Home Equity FlexLine (contact us to order your free personalized cheques)
Expand
Legal
1Lending value will be based on the lesser of the appraised value or purchase price of your home at the time of application

2Subject to TD Canada Trust credit criteria and any prior outstanding mortgage charges or liens.

3Subject to the terms of your TD Home Equity FlexLine Agreement.

4TD Access Card must be programmed for your TD Home Equity FlexLine. Fees may apply.
---