Extra Peace of Mind
Enjoy peace of mind with overdraft protection -
choose from two convenient options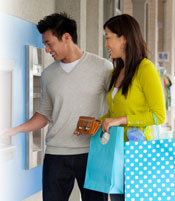 What is overdraft protection?
This valuable service helps you manage your cash flow by offering protection for those times when you don't have sufficient funds available in your account to complete a transaction. Overdraft protection is like a safety net - it makes the funds available when and if you need them, up to your approved limit.
Why should I get overdraft protection?

Cover unexpected cash shortfalls
Protect yourself from Non-Sufficient Funds (NSF) charges
Avoid the embarrassment of a declined transaction
Monthly Fee option

A good choice if you write a lot of cheques, use your account for a lot of transactions, and find yourself short of funds
A low monthly fee of just $4 a month
Pay As You Go option

A good choice if you don't anticipate more than an occasional need
You only pay when you use the service
The most you'll ever pay in one day for overdraft fees is $5, regardless of the number of transactions covered by your overdraft that day.