What will your retirement look like?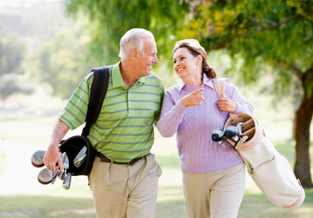 Think of your retirement plan as a roadmap. You determine where you want to be and when you want to get there, and then choose the best route from your present location.
One of the mistakes that a lot of Canadians make is not planning that journey. Maybe they put off thinking about retiring, or they stash a little money away but never really consider how much they will need to live comfortably. While more than half of Canadians (58%) say that saving for a comfortable retirement is one of their long-term goals, 71% have no specific financial plan for how they hope to achieve those goals.1
Questions to ask yourself
If you haven't yet done any retirement planning, here are some of the first questions you should consider. If you are nearing retirement age, you'll want to think carefully about all of these. If it's still decades away, then just answering the first couple of questions might provide enough information to get you started.
At what age would you like to retire? You may wish to aim for the traditional retirement age of 65, or you might feel this is too young to stop working; then again, you may be ready to stop at 55. Keep in mind that Canada Pension Plan payments can start as early as 60, and Old Age Security payments begin at 65.
How long will your retirement last? Canadians are living longer. According to Statistics Canada, the life expectancy of Canadians in 2005 was 80.4 years).2 With increasing life spans, your retirement could easily last 20 or 30 years or longer.
Would you like to stop working completely? Some people choose to continue working on a part-time basis or as a consultant or teacher. Others start their own business, or do volunteer work. How you answer this question will influence not only how you will spend your days, but also where you will need to live, your income and your savings plan.
How would you like to spend your time? Once you've finished working, what will your days look like? Will you travel, engage in hobbies, return to school, do volunteer work, devote more time to your family? Your choices will affect how much money you will need.
Where will you live? Do you plan to stay in your current home? If you currently own a home, will the mortgage be paid off? Will you move to your vacation home or downsize to a smaller place? Perhaps you will want to divide your time between Canada and another country.
Take the next step
Based on your current income and your answers to the questions above, you should be able to estimate how much more or less you'll need to live the life you want after you retire. Enter this information in the RSP Contribution Calculator to help determine how much you need to save each month, starting now.
For more information about preparing for your retirement, visit
TDRetirement.com
.
1 Source: 2005 Affluent Canadians Study. (Affluent is defined as those with $100,000+ in investable assets.)
2 Statistics Canada, "Life expectancy, abridged life table, at birth and at age 65, by sex, Canada, provinces and territories (Comparable Indicators), annual (years) *Terminated* (90 series)." Online: Modified Aug. 1, 2007, and "Life expectancy, abridged life table, at birth and at age 65, by sex, Canada, provinces and territories, annual (years) (366 series)." Online: Modified Jan. 11, 2008.