How to save for your child's education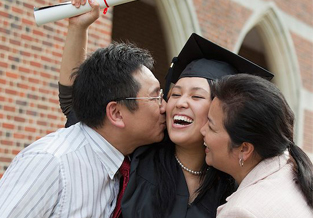 The average undergraduate degree in 2009 cost just over $53,000 for a student living at home, and more than $80,000 for a student who lived away from home1.
That's a lot of money, but as a parent, you would probably like your child to obtain a post-secondary education, and the brighter prospects that go with it. The good news is, you have time on your side to help make it possible. If you start saving now — even a modest amount each month — it will really make a difference to your child's future.
And there are two government programs available to help you maximize your saving power.
Registered Education Savings Plan (RESP). An RESP helps by letting your contributions grow on a tax-deferred basis. That means the earnings aren't taxed until they're withdrawn by your child. Since most students are in a much lower tax bracket than their parents, these earnings should be subject to very little or no tax. You can deposit up to $50,000 per child into an RESP, and there is no annual contribution limit. Learn more about how RESPs can help.
Canadian Education Savings Grant (CESG). Once you open an RESP, you are eligible to receive a grant from the federal government amounting to 20% of the first $2,500 in annual RESP contributions per child, to a maximum of $7,200. The grant is deposited directly into your RESP. Depending on your income and where you live, you may also be eligible for other government grants, or a higher government contribution. Learn more about the CESG.
It doesn't matter how much or how little you are able to save — the important thing is to start early. Visit your TD Canada Trust Branch and talk to your TD Canada Trust advisor.
1TD Economics report, May 17, 2010: "Post-Secondary Education is a Smart Route to a Brighter Future for Canadians".