Last minute holiday shopping tips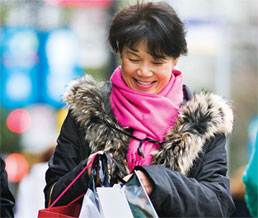 I've always envied those people who have their holiday shopping done by October. While I make a list and set a budget, finding the time to get out to the stores to buy the items is another matter.
A few years back, I actually snuck out of Christmas Eve dinner preparations, presumably to pick up some last minute groceries, but frankly to get a few last-minute gifts at the local drug store. With limited options available, I would have spent just about any amount to find a decent present.
From a financial perspective, the best approach to holiday shopping is to set a budget and take the time to shop around so that you can stay within your limit.
However, the reality is that setting a budget and being able to stick to it are two very different things.
If you have left your shopping to the last minute, it can be really easy to forget about the budget and buy the first thing you see, regardless of cost.
If you are planning a last-minute holiday gift shopping spree, consider these ways to help keep your present buying on budget:
Compare online
If you have limited time to shop, cut down the hours searching for the best price at the mall by comparison shopping online first. Itemize what is available and where and stick closely to the list to avoid the temptation to purchase extra items.
Sticking to the list also helps to prevent you from buying gifts for yourself, something that 48% of Canadians say they do while holiday shopping for others.
Prioritize purchases
Buying gifts for people that you won't see until after Christmas Day? Concentrate instead on picking up the gifts you need immediately.
If the timing of your holiday visits mean you can wait a bit longer to shop, you can take advantage of Boxing Day sales.
Personalize
Instead of rushing to buy items your gift recipients may not need, consider giving a more personal gift: the promise of your time, framed photographs or photo albums, homemade digital movies, or treats baked with love are all cost-effective ways to show you care.
Free shipping
Shipping items to family across the country, or around the world, can be more costly than the gift itself.
At this late date, shopping online and sending items directly from a retailer that offers free shipping can be the best way to avoid expensive courier charges.
Just ensure you confirm delivery times to be certain your special gift will arrive when you need it to.
This year I vowed I would complete my shopping early — and while I didn't finish in October, I will definitely avoid the last-minute dash to the drug store.
Carrie Russell works for TD Canada Trust and has over 20 years experience in financial services.