Web Accessibility Toolbar Download
Use this toolbar to adjust text size — and more — on our web pages.
*New: Compatible with IE8 and Windows 7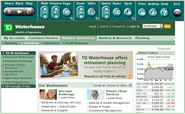 The toolbar is compatible with all TD Canada Trust and TD Waterhouse web pages, including EasyWeb and WebBroker. It's designed especially for our customers who would benefit from assistive technology on their computers.

Features
Increase text size
Adjust magnification
Adjust foreground and background colours
Listen to screen text read aloud, in English or French
Adjust volume and speed of text read aloud
Follow your reading position with a crosshair highlight combined with the mouse pointer
Highlight text with choice of four patterns
Adjust line and word spacing
Get instant support via dedicated Help Button
Questions? Visit our FAQs

Online Banking
Manage your money online with EasyWeb — from anywhere you have Internet access.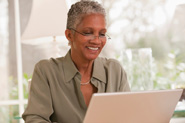 You can view and pay bills, or automatically transfer money from one account to another with the Pre-authorized Transfer Service (PTS), plus you can send money directly to other people. EasyWeb is secure, convenient and flexible.
Also, take advantage of the TD mobile app to do everyday banking from almost anywhere. Find out more and download the TD mobile app!

Online Investing
Stay connected to market information, and manage your investments, with WebBroker.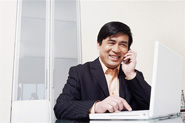 Managing your investments is easy and secure with WebBroker.
eServices gives you 24-hour a day access to your monthly statements, trade confirmations and tax documents, which you can view online with your screen reader assisted by our Downloadable Web Toolbar.
TalkBroker, our state-of-the art voice-recognition service lets you access your investment accounts and get quotes securely from any telephone.
TeleMax, our advanced automated telephone service, gives you 24-hour toll-free access to automated order entry, plus real-time quotes, mutual fund quotes, and portfolio and account information.

Bank Branches & ATMs
All ATMs and new branches are accessible to everyone.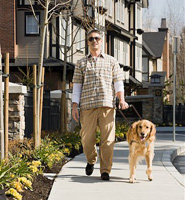 Branches
All new branches are designed with accessibility in mind:
Our new branches feature automated/accessible doors, vestibules and washrooms, wheelchair-access to ATMs, vaults and service areas.
Where possible, at least one parking space is reserved for customers with disabilities.
Many of our older branches have been retrofitted to enhance accessibility.
Our extended hours give you the time and convenience you need.

Can we help? If there is something we can do to make your experience more comfortable, please let us know when you visit. We can record your request so that we can meet your needs whenever you deal with us.
ATMs
All of our more than 2,500 ATMs are accessible to customers with disabilities:
Audio capability. Access in English and French by plugging in a standard headset — you'll even be guided through your transaction. Find out how to use this feature.
Design features. Lower screens and buttons and partial shelves to aid in wheelchair accessibility.
Request a Braille or large print version of the TD Canada Trust ATM Orientation guide and complimentary headset - simply call us at 1-800-831-1158.

EasyLine Telephone Banking
Telephone Banking Specialists for your banking needs.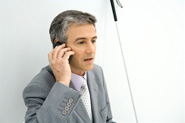 All services — from paying bills to opening a new account — are available through EasyLine:
Personalized service. Available in over 170 languages, 24 hours a day, 7 days a week.
Telephone Banking Specialists. Ready to answer calls received through TTY (text telephone) — which are as responsive as our regular phone lines.

Documents
Brochures, guides and more — in large print, Braille and audio.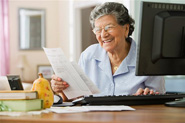 Product brochures. Our most popular available in large print:
*
Get Adobe® Reader®
Other printed materials. On request, we can provide other documents, such as marketing materials and account statements, in large print, Braille and audio.
Cheques. Order large-print cheques that can be oriented by touch for your personal chequing accounts.
TD business cards. Large-print and Braille business cards are available at all TD Canada Trust branches and TD Waterhouse offices.